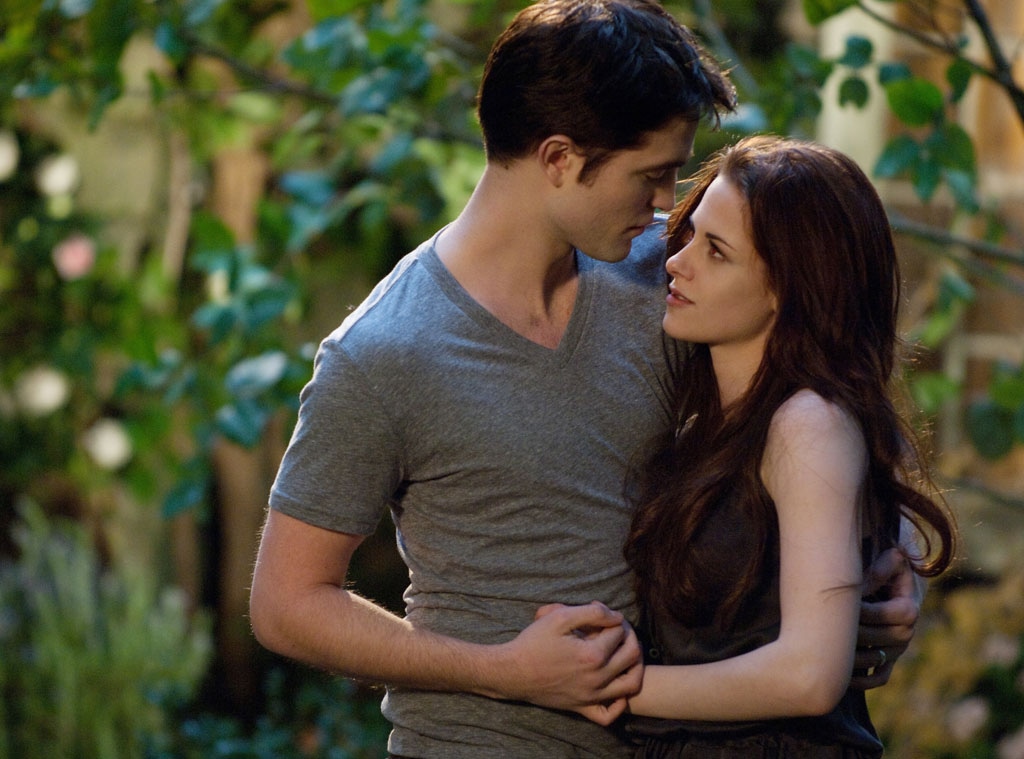 Summit Entertainment
Once again, the Twilight Saga has been deemed so much swill by Razzie voters.
Breaking Dawn Part 2 leads the field heading into the 33rd Golden Raspberry Awards with a whopping 11 nominations, meaning it's up for dishonor in every category, including Worst Picture, Actor, Actress, Ensemble and Director.
They even doubled up on Kristen Stewart, making her Worst Actress nod a twofer, for Breaking Dawn Part 2 and Snow White and the Huntsman. (Think she'll show up like Halle Berry and Sandra Bullock have good-naturedly done in the past?)
While the makers of the billion-dollar franchise probably aren't going to lose any sleep, they might 
Alas, because it's nominated twice in the Worst Screen Couple category, Breaking Dawn Part 2 will only be able to tie last year's all-time best (er, worst) showing by Jack and Jill, which swept all 10 categories.
Adam Sandler has plenty of chances to keep his streak alive, his father-son "comedy" That's My Boy next up with nine nominations.
Battleship sunk further into the bowels of cinema history by collecting seven nods, with both Rihanna and Brooklyn Decker getting dinged in the Worst Supporting Actress category.
The Razzies will be handed out Feb. 23, the day before the Academy Awards.
Here's the complete list of nominees for the 2013 Golden Raspberry Awards:
WORST PICTURE
• Battleship
• The Oogieloves in the Big Balloon Adventure
• That's My Boy
• A Thousand Words
• The Twilight Saga: Breaking Dawn Part 2
WORST DIRECTOR
• Sean Anders, That's My Boy
• Peter Berg, Battleship
• Bill Condon, The Twilight Saga: Breaking Dawn Part 2
• Tyler Perry, Good Deeds/Madea's Witness Protection
• John Putch, Atlas Shrugged: Part 2 
WORST ACTRESS
• Katherine Heigl, One for the Money
• Milla Jovovich, Resident Evil: Retribution
• Tyler Perry, Madea's Witness Protection
• Kristen Stewart, The Twilight Saga: Breaking Dawn Part 2/Snow White and the Huntsman
• Barbra Streisand, The Guilt Trip
WORST ACTOR
• Nicolas Cage, Ghost Rider: Spirit of Vengeance/Seeking Justice
• Eddie Murphy, A Thousand Words
• Robert Pattinson, The Twilight Saga: Breaking Dawn Part 2
• Tyler Perry, Alex Cross/Good Deeds
• Adam Sandler, That's My Boy
WORST SUPPORTING ACTRESS
• Jessica Biel: Playing for Keeps/Total Recall
• Brooklyn Decker: Battleship/What to Expect When You're Expecting
• Ashley Greene: The Twilight Saga: Breaking Dawn Part 2
• Jennifer Lopez: What to Expect When You're Expecting
• Rihanna: Battleship

WORST SUPPORTING ACTOR
• David Hasselhoff, Piranha 3D
• Taylor Lautner, The Twilight Saga: Breaking Dawn Part 2
• Liam Neeson, Battleship/Wrath of the Titans
• Nick Swardson, That's My Boy
• Vanilla Ice, That's My Boy
 WORST SCREEN ENSEMBLE
• Battleship
• The Oogieloves in the Balloon Adventure
• That's My Boy
• The Twilight Saga: Breaking Dawn Part 2
• Madea's Witness Protection
WORST SCREENPLAY
• Atlas Shrugged: Part 2
• Battleship
• That's My Boy
• A Thousand Words
• The Twilight Saga: Breaking Dawn Part 2
 WORST REMAKE, RIP-OFF OR SEQUEL
• Ghost Rider: Spirit of Vengeance
• Piranha 3D
• Red Dawn
• The Twilight Saga: Breaking Dawn Part 2
• Madea's Witness Protection
WORST SCREEN COUPLE
• Any two cast members from The Jersey Shore in The Three Stooges
• Mackenzie Foy and Taylor Lautner in The Twilight Saga: Breaking Dawn Part 2
• Robert Pattinson and Kristen Stewart in The Twilight Saga: Breaking Dawn Part 2
• Tyler Perry and his drag in Madea's Witness Protection
• Adam Sandler and Andy Samberg, Leighton Meester or Susan Sarandon in That's My Boy