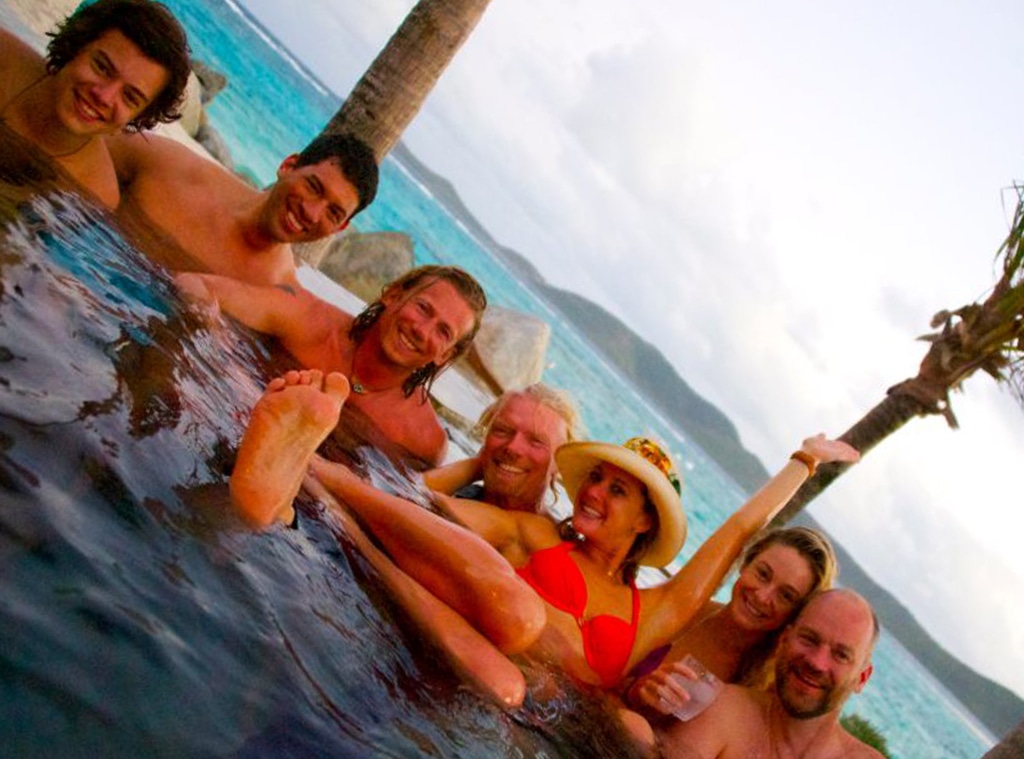 Facebook
When Taylor Swift's love life hits a rough patch, she writes a song. As for Harry Styles...he apparently goes hot-tubbing with billionaires.
Swift was spotted heading to the airport alone Friday following a reported deal-breaker of a vacation with Styles to the British Virgin Islands, right around the time the One Direction heartthrob was getting into party mode on Sir Richard Branson's Necker Island.
And while Styles was unwinding with a co-ed group, a source exclusively tells E! News that he paid close attention to British Internet entrepreneur and reality-TV star Hermione Way. (She's the one in the red bikini in the photo and, go figure, she appears to be having a grand time.)
We hear that Styles and Way, who appeared on the Bravo series Start-Ups: Silicon Valley, were flirty with each other but ultimately nothing occurred between them of a romantic nature.
Way has not responded yet to requests for comment about Styles and the gathering on Branson's island.
However, savvily predicting that Styles' jaunt following his reported breakup with Swift after two months was going to make waves among Haylor enthusiasts, Ways tweeted earlier today, "Oh dear..." along with a link to a Daily Mail story about the purported split that included various photos from the seemingly fun-filled weekend (including the hot tub pic, which a friend had posted on Facebook).
And what really went down between Styles and Swift, whose whirlwind courtship took them from New York to London to L.A. to Utah to NYC again and, perhaps finally, to the Virgin Islands?
A source confirms that the pair had a "disagreement" and his trip to Necker Island was a last-minute getaway.
"Everyone on the island was wondering what exactly had gone wrong but he did not say at all," the insider says. "He did not tell anyone they were necessarily over, just that there had been some unrest and that something had gone wrong. He wasn't specific and no one pressed him for more."