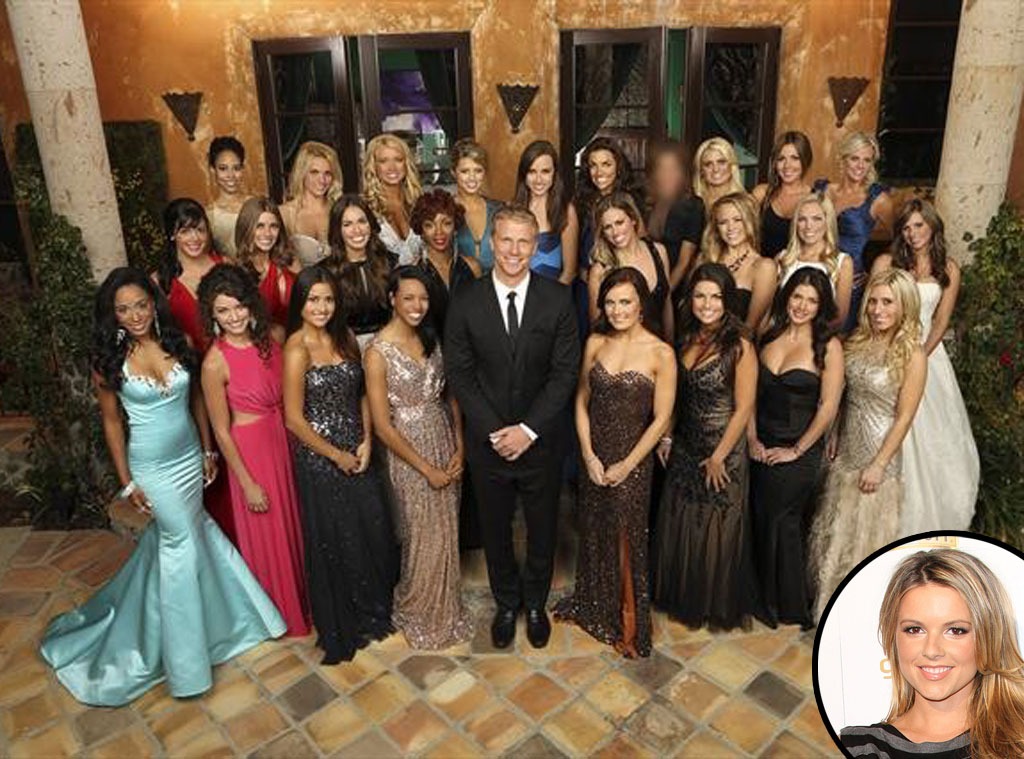 ABC/CRAIG SJODIN; Frederick M. Brown/Getty Images
Editor's Note: Season six Bachelorette Ali Fedotowsky is blogging exclusively on E! Online about the current season of The Bachelor, giving her reactions and spilling behind-the-scenes secrets. Check back every Tuesday!
I want to start this blog off by talking about Sean's Abs. Why? Because I have a feeling we are all going to fall in love with both Sean and his abs over the next few weeks.. I mean really, 60 seconds into the show and Sean already had his shirt off. I'm pretty positive that this will be a recurring theme this season.  All I have to say is that he is ABsolutely all ABout finding ABeautiul wife. I'm going to take this opportunity to say abs one more time. Abs. Okay I'm done.
The interaction between Arie and Sean at the start of the episode was really refreshing to me. To be honest, I thought some of their comments were a little harsh as first, like when Arie asked Sean to practice "break up" techniques. But then as I continued to watch, I thought it was SO great that they were making light of the situation.  Let's face it, the show is pretty ridiculous in the beginning when you think about it. 25 girls and 1 guy? It's insanity. No one ever pokes fun of the situation  on the show (it's always SO SERIOUS) so I'm glad that they did. Nice work, guys.
I truly believe that Sean is a legitimately good guy. I was really impressed that he stopped and reminded a few of the girls that they didn't say their names when they met him out of the limo. It shows how interested he is in each person. I know this sounds like a small and stupid thing to commend him for, but trust me, it is so hard to remember ANYTHING about what is said to each person coming out of the limo. You're so focused on making sure you say your own name that it's hard to focus on anything else. At least that is how it was for me. I was so nervous and it was all a big blur to me. It's the craziest night of your life. Sean seems in control. I admire that.
After all of the girls arrived, I think Sean went inside and sat next to Kacie B because it was comfortable. He had met her before. That is also why he probably wanted to talk to her first. I support Kacie showing up. Why not? She likes him and thinks they might have been a good match, so why not take this chance? That said, I am positive that Kacie won't be the last one standing. Sean said that he viewed her as a "friend" when he met her. If a man is into you, he wants to BE with you - in every way possible. If he saw her as a friend then, he is going to see her as a friend now. Some people might disagree with this (and I'm sure there are exceptions), but I think it's pretty clear that Sean isn't choosing Kacie B at the end of all this. Now I have a very serious question, can we still call her Kacie B even though she is the only Kacie on the show? Ha!
One thing I ABsolutely love (sorry I can't help myself) about this first episode is that is was so different than any other Bachelor/ette premieres. Sean was giving out roses like crazy! I LOVED it. Did you guys like it?
I'll end this blog with my predictions on the top 3. I feel really good about Tierra, Desiree, and Catherine. I think it's so romantic that Sean gave Tierra a rose  right out of the limo. And even though the previews make Tierra look like a "bad guy," I still think it would be so great if they ended up together. This opinion might change, but it's how I feel now. Desiree seemed to catch his eye right away; however, I think the previews showed that her ex-boyfriend shows up…so I'm guessing she doesn't stick around to the end. I still think she will go far though. And then there is Catherine. The way Sean giggled when they first met out of the limo said a lot to me.
I'll be live tweeting each week during the show, but I wanted to answer a few twitter questions in this blog that I didn't get a chance to answer on Twitter.
First question: How do you remember all the names?
Answer: I am asked this question a lot and there are two answers to this question. Throughout the night a producer is never far from your side and constantly reminds you about everyone's name. She (the producer) has flash cards with the pictures and names of every contestant. It is hard to remember everyone, even with the flash cards. It's all so overwhelming. How do you remember the names at the rose ceremony? Well, I doubt many people could remember at 25, so the Bachelor/ette goes into the rose ceremony room and says a few names at a time and then leaves to get the next few names.
Second Twitter question: When someone is sent home, do they leave that night, or the next day?
Answer: They leave the mansion that night and go to a hotel near the mansion. I'm sure they are sent home the next day or soon thereafter. I'm sure it's different for everyone.
Third question: Why does the driveway always look so shiny when the limos arrive?
Answer: The producers wet the pavement with a hose before the limos arrive. It makes it look shiny and pretty! But if you have a long gown on it gets soaked!
Now it's time for my superlatives for the week. Here you go:
Biggest Surprise: How many roses Sean gave out the first night. Especially giving one to Tierra right out of the limo.
Best Quote of the Night: Lindsay "I've got balls." Sean "Well I hope not." I died laughing. I love that Sean can be witty. 
 

Destined to Fail: Kristy (the model). She is just too cocky. I don't think she is Sean's type.


Most Ridiculous Moment: Lindsay (wedding dress girl) trying to kiss him. That girl HAD to be completely drunk. Right?
Random Thought: I think Selma looks like Ashley Green. Do you agree?
OK, friends, that's it's for me. Tweet me your questions next Monday at @alifedotowsky because I will be live-tweeting during the show with E! Looking forward to watching this season with all of you!
Until next time…
Ali