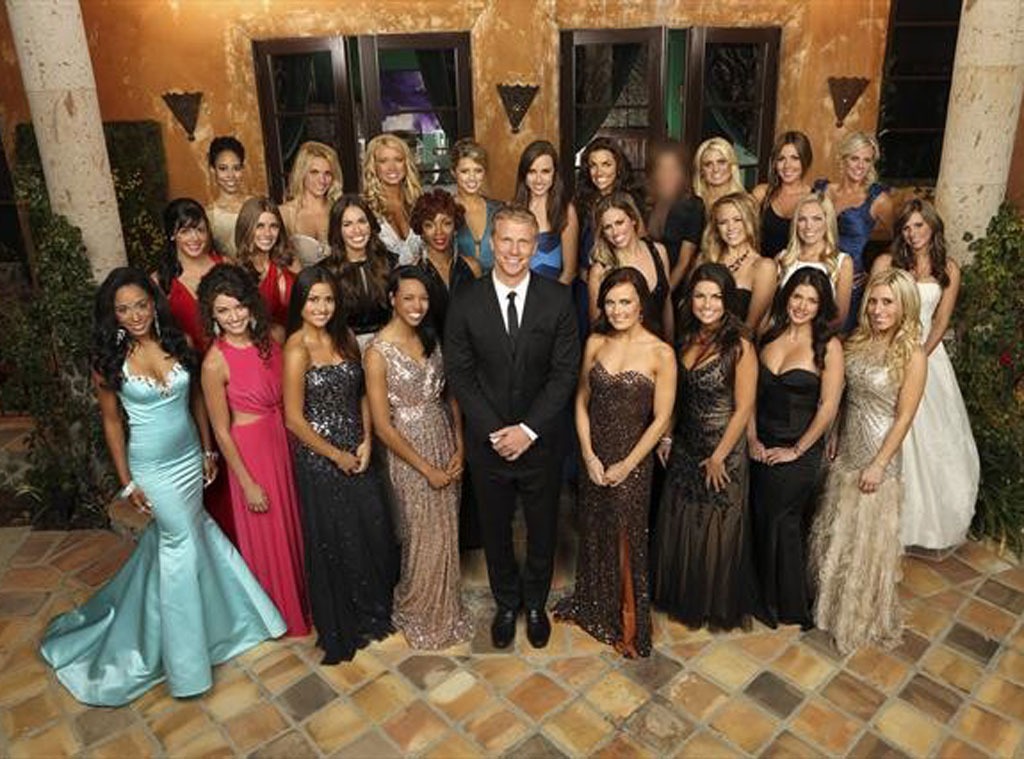 ABC/CRAIG SJODIN
The world seemed so boring without beautiful people fighting for their shot at true love, but all that came to an end with tonight's Bachelor premiere with Sean Lowe.
After reminding viewers why Sean is amazing and the perfect choice for this season's leading man, the show jumped headfirst into the first meeting with the 25 ladies.
But not before a quick pep talk from none other than fellow competitor from last season Arie Luyendyk. 
"I think it's so tough. I was completely in love with her [Emily Maynard], you were in love with her, and I can just see the foreshadowing of that happening to you when these girls catch feelings. I think this is gonna be tough for you," Arie told him.
The two then went over how Sean will offer up the roses, breakup techniques and—Arie's specialty—kissing. Obviously, not with each other, but that would have been interesting.
"First of all, the most important thing is eye contact," Arie explained to Sean, "and you gotta use your hands, you gotta use your hands...and pull 'em close, because you're not just kissing, you're kissing with your whole body."
Finally, we met the women, and let's not forget, first impressions are everything.
Personal organizer AshLee F. was the first to break the ice, and she seems humble for now. Jackie made sure to do the equivalent of a dog peeing on it's territory by giving Sean a big, red lip mark on his cheek. But then Selma so conveniently pulled a handkerchief out of her bosom and wiped it right off. 
Kelly used her cruise ship entertaining skills when she sang Sean a little country song right off the bat. Ashley, a Fifty Shades of Grey fan, pulled a silver tie out of her cleavage and said, "Maybe you could teach me how to use this later?" Yes, that happened. And yes, it was awkward.
But not as awkward as when Robyn tried to make her entrance by doing backflips in her gown, and then fell down. So embarrassing, but hey, you gotta give the girl some credit for trying. And then we meet Tierra, who showed Sean that she has an incomplete heart tattoo on her ring finger, and hopes that he will be the one to complete it.
After a long silence which even got us feeling uncomfortable, Lowe said he'd be right back. Wait, what?! What's happening? 
"So tonight I'm going to break the rules a little bit," Sean told her. "You just have this sweet, exciting—I don't know how to describe it—but you just have such a good energy, and I'd like for you to stick around a little bit longer, so, with that being said, Tierra, do you accept this rose?"
What?! She already scored a rose! Let the catty claws come out. 
Political consultant Lesley used football to her advantage by tricking Sean into running a play, when really all she was doing was admiring his booty. Good move. Lindsay didn't want to waste any time and arrived in a bridal gown. Doesn't she know it's bad luck?! As if that wasn't enough, she also went straight for the lip-lock right away! "Whoa," was all Sean could say.
Just when we thought all the ladies had arrived, host Chris Harrison told Sean that there was one more person who specifically asked to be a part of this season. So who was it? Kacie B. from Ben Flajnik's season! Surprise! Yeah, the women were not happy about Kacie B.'s return. 
After hitting it off with their family talk, Desiree got the second rose during some one-on-one time with Sean. That got all the ladies alert and wondering what was going on. Apparently, Sean decided to change up the game a little bit and not wait until the usual rose ceremony to start handing them out.
Instead, he would just offer a rose to the ladies during their alone time together if he felt a connection. 
Sean's "bride" Lindsay tried to make up for possibly coming off as "crazy" by showing up in her wedding dress, but what probably would have helped even more was if she was sober. Sigh. She was so tanked, along with Fifty Shades enthusiast Ashley. Sarah, who was born with only one arm, got her wish of receiving a rose on the first night. "It's validation that I'm good enough and I'm interesting enough for someone to want to get to know me better."
When it came to the actual rose ceremony, Kacie B, along with the drunk bride, Lindsay, got their roses, and Sean had to say goodbye to his first group of women, who left the mansion with runny mascara.
What did you think of tonight's premiere? Sound off in the comments!