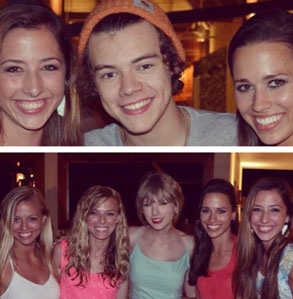 Twitter.com
Taylor Swift and Harry Styles' romance may be hotter than ever, but that doesn't mean the adorable couple won't take time to hang with their fans.
The inseparable twosome took their love to the British Virgin Islands for yet another holiday vacay after they were snapped (and filmed) sharing a sweet New Year's Eve smooch in NYC. 
Adoring fans of the musical power couple were treated to a late holiday gift when Haylor popped up in the Caribbean and happily posed for pics with devotees. 
The precious pair looked relaxed and content as they vacationed together, looking anything but annoyed when their admirers interrupted their vacation for a special shot with the famous couple.
In the photos, Swift is sporting a spaghetti-strapped mint green dress and her signature red lips, while her One Direction beau is rocking an orange beanie and a casual T-shirt. 
Both Taylor and Harry flashed their megawatt smiles in the super sweet pics, as their overjoyed fans stood in awe of the superstars.