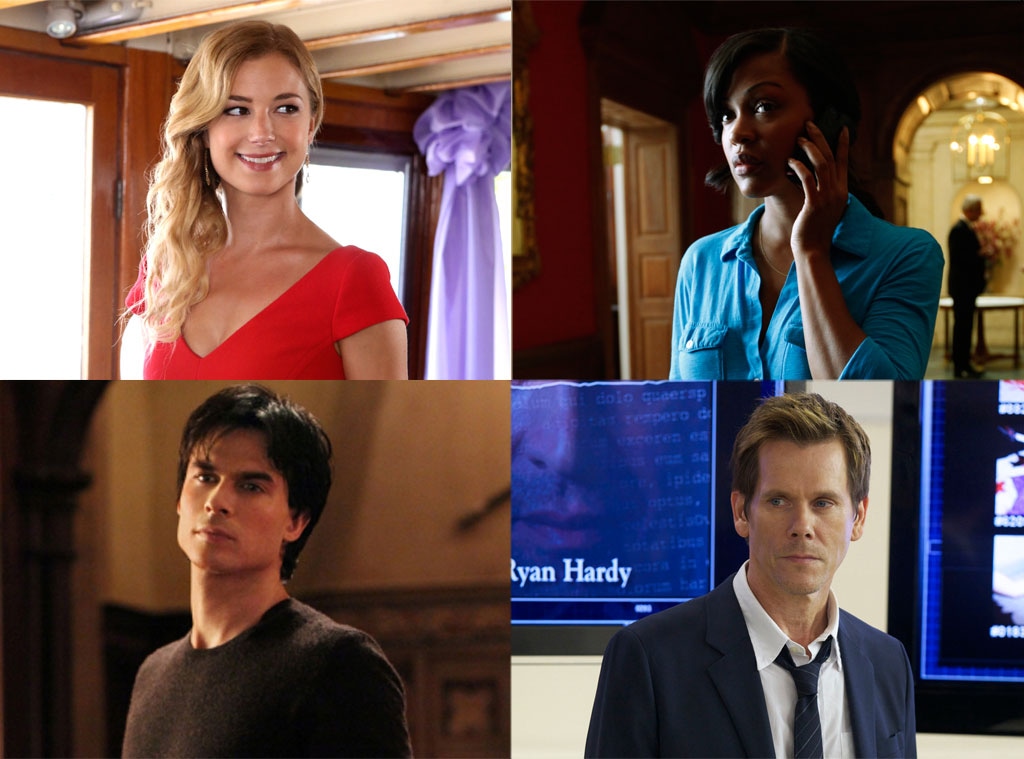 NBC; ABC; FOX; CW
It's been a cruel, cold winter without our favorite shows.
Sure, gingerbread cookies and holiday cheer were able to fill the void left in our hearts by the absence of our favorite shows, but they were just not enough. Thankfully, most of our TV addictions are returning this month and new series we're super into are finally making their small screen debut.
We've compiled a handy-dandy list of midseason premieres of shows like Revenge, The Vampire Diaries, Glee, How I Met Your Mother and more. Plus, we've got the dates that you can check out freshman series like The Following, starring Kevin Bacon, The Carrie Diaries, Deception and Do No Harm.
ABC 
The Bachelor
Season Premiere: Jan. 7
Body of Proof
Return Date: Feb. 5
Castle
Return Date: Jan. 7
Celebrity Diving
Series Premiere Date: March 19
Dancing With the Stars
Season Premiere: March 18
Don't Trust the B---- in Apartment 23
Return Date: Jan. 8
Family Tools
Series Premiere: May 1
Grey's Anatomy
Return Date: Jan. 10
Happy Endings
Return Date: Jan. 8
How to Live With Your Parents (for the Rest of Your Life)
Series Premiere Date: April 3
Last Resort
Return Date: Jan. 10
The Middle
Return Date: Jan. 9
Modern Family
Return Date: Jan. 9
Nashville
Return Date: Jan. 9 
The Neighbors
Return Date: Jan. 9 
Once Upon a Time
Return Date: Jan. 6
Private Practice
Return Date: Jan. 8 
Red Widow
Series Premiere: March 3
Revenge
Return Date: Jan. 6
Scandal
Return Date: Jan. 10 
Suburgatory
Return Date: April 3
The Taste
Series Premiere: Jan.22
Zero Hour
Series Premiere: Feb. 14
CBS
2 Broke Girls
Return Date: Jan. 14
The Amazing Race 22
Return Date: Feb. 17
Criminal Minds
Return Date: Jan. 16 
Golden Boy
Series Premiere: Feb. 26
The Good Wife
Return Date: Jan. 6 
Hawaii Five-0
Return Date: Jan. 14
How I Met Your Mother
Return Date: Jan. 14
The Job
Series Premiere: Feb. 8 
The Mentalist
Return Date: Feb. 17 
Mike & Molly
Return Date: Jan. 14 
NCIS
Return Date: Jan. 8 
NCIS: Los Angeles
Return Date: Jan. 8 
Rules of Engagement
Return Date: Feb. 4 
Survivor 26
Return Date: Feb. 13 
Vegas
Return Date: Jan. 8
The CW 
90210
Return Date: Jan. 21 
Arrow
Return Date: Jan. 16 
Beauty and the Beast
Return Date: Jan. 24
The Carries Diaries
Series Premiere: Jan. 14
Cult
Series Premiere: Feb. 19
Emily Owens, M.D.
Return Date: Jan. 15
Hart of Dixie
Return Date: Jan. 15 
Nikita
Return Date: Jan. 18
Supernatural
Return Date: Jan. 16
The Vampire Diaries
Return Date: Jan. 17 
FOX
American Idol
Return Date: Jan. 16  
Ben & Kate
Return Date: Jan. 8 
Bones
Return Date: Jan. 14 
The Following
Series Premiere: Jan. 21 
Fringe
Return Date: Jan. 11 
Glee
Return Date: Jan. 17
The Mindy Project
Return Date: Jan. 8 
New Girl
Return Date: Jan. 8 
Raising Hope
Return Date: Jan. 8
Stars in Danger: The High Dive
Series Premiere: Jan. 9 
Touch
Return Date: Feb. 8
NBC 
1600 Penn
Series Premiere: Jan. 10
30 Rock
Return Date: Jan. 10 
The Biggest Loser
Return Date: Jan. 6 
Celebrity Apprentice
Return Date: March 3
Community
Return Date: Feb. 7 
Deception
Series Premiere: Jan. 7
Do No Harm
Series Premiere: Jan. 31 
Go On
Return Date: Jan. 8
Grimm
Return Date: March 8 
The New Normal
Return Date: Jan. 8 
The Office
Return Date: Jan. 10 
Parks and Recreation
Return Date: Jan. 17  
Ready for Love
Series Premiere: March 31
Revolution
Return Date: Feb. 5 
Smash
Return Date: Feb. 5 
The Voice
Return Date: March 25