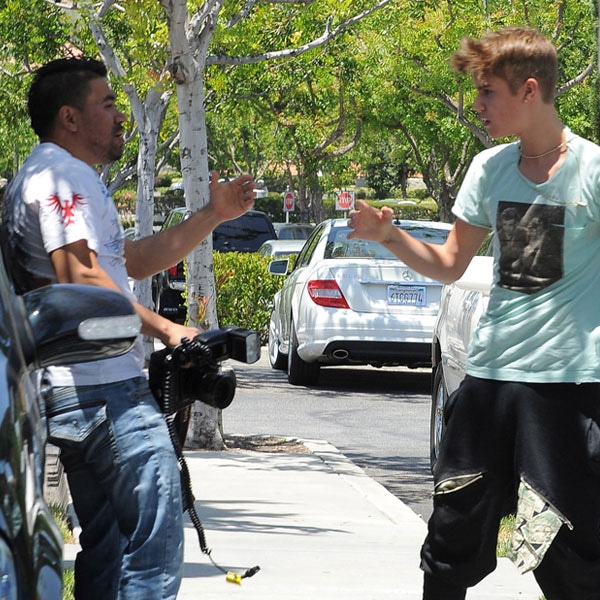 Raef-Ramirez/AKM-GSI
Tragedy befell a paparazzo Tuesday after he was fatally hit by a car while trying to shoot photos of Justin Bieber's Ferrari in Los Angeles.
Although the "Boyfriend" singer himself wasn't in the vehicle when the incident happened, Bieber has found himself in delicate, often contentious situations involving the paps over the last year, generating a fair share of headlines.
In May, the 18-year-old got into an alleged scuffle with a shutterbug who was attempting to photograph him and ladylove Selena Gomez in Calabasas, Calif.
The photographer, who was taken to a local hospital following the incident, claimed that he was "physically battered" by the pop star.
Eyewitnesses, on the other hand, say that Biebs and Gomez were blocked by a swarm of paparazzi while trying to pull out of a parking lot, and that Biebs confronted the lensman in question, who refused to get out of the couple's way. During the ensuing altercation, the singer reportedly fell on his face and suffered a scraped jaw.
Two months later, the singer again made waves when he was busted by L.A. highway cops after getting into a high-speed chase while attempting to outrun a paparazzo who was trailing him.
Bieber, whose was reportedly going over 100 mph at one point, received a speeding ticket. The shutterbug, on the other hand, ended up in some pretty hot water: He was subsequently slapped with four misdemeanor charges—the first photographer to be charged under a 2010 California law intended to mete out harsher penalties to paparazzi for reckless driving.
Two of those charges were later dismissed, but the pap remained in the hole for the two other misdemeanor counts: reckless driving, which carries up to 90 days in jail and a $1,000 fine, and failing to obey the lawful order of a peace officer.
Has Biebs finally reached his boiling point with paps?
Looks like it: Just last month, the pop star chucked a water bottle at photographers while leaving a store in Miami.
Guess his unpleasant pap run-ins are anything but water under the bridge for Biebs.