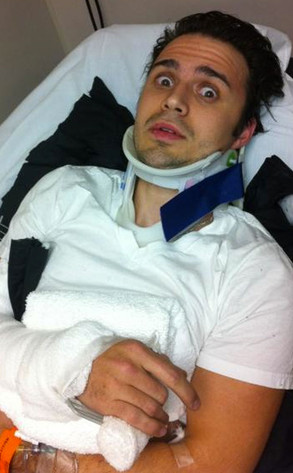 Twitter
American Idol season eight winner Kris Allen was in a car accident today. Luckily, he's mostly fine. Even luckier, he's going to be a daddy!
"From Kris: he's in a lot of pain, arm broke, may not play guitar for a while. Prayers welcome please! #headoncollision," his mother, Kimberly Allen, tweeted this evening, including a picture of a good-natured Allen looking rather shocked as he clutched his wounded arm.
She continued, "Kristopher and Katy [Allen, Kris' wife] are both pretty beat up but ALIVE! Thank you Jesus! They are setting his arm now and will have surgery tomorrow."