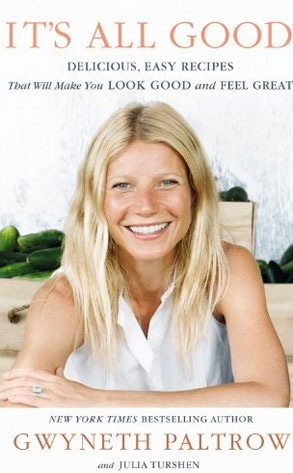 Amazon
Want to look like Gwyneth Paltrow? Of course you do!
Well, you probably can't, but you can make a valiant effort to feel gorgeous like the Gooptastic gal now that Gwynnie has announced her second cookbook, appropriately (and ingeniously) titled It's All Good: Delicious, Easy Recipes That Will Make You Look Good and Feel Great.
The Academy Award-winning actress felt inspired to pen the culinary guide, out Apr. 2, 2013, after she discovered she was anemic and vitamin D deficient last spring, according to Grand Central Life & Style publishing.
Paltrow's doctor subsequently prescribed a strict elimination diet to clear out her system—no coffee, no alcohol, no dairy, no eggs, no sugar, no shellfish, no deep-water fish, no wheat, no meat, no soy and no processed food.
Concerned she would feel bored with the intense diet restrictions, Paltrow partnered with food writer and chef Julia Turshen and compiled a collection of 185 recipes that fit her doctor's firm guidelines.
A few of the featured recipes in Mrs. Chris Martin's kitchen guide? Huevos rancheros, hummus tartine with scallion-mint pesto, salmon burgers with pickled ginger, banana "ice cream" and more.
This is the actress' second run down the culinary road. She released her first best-selling cookbook, My Father's Daughter, in April 2011.
Paltrow's cookbook—which weighs in at a whopping 304 pages—is currently available for preorder on Amazon.
Do the recipes in It's All Good sound tasty to you? Tell us in the comments!