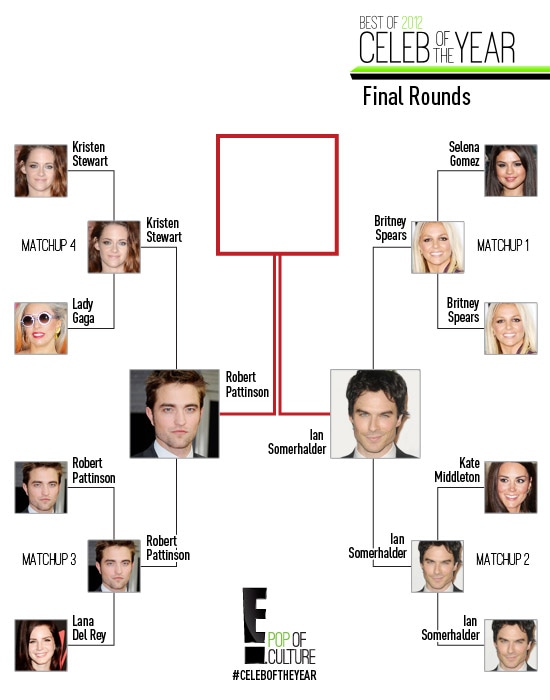 From 64 down to four back up to eight (with the addition of Wild Card picks, one of whom made it to the finals) and now back to two again: E!'s Celeb of the Year tournament has been quite the wild ride this year.
The finals are giving us a serious case of déjà vu: Robert Pattinson vs. Ian Somerhalder, i.e., the exact same matchup from all the way back in round 3 of the Leading Men bracket.
When the polls closed, R.Pattz had clinched the victory and advanced to the next round. But can he knock out Ian a second time?!
Let's review the year in vampire: First, there's Edward Cullen, who put the final nail in the Twilight Saga coffin with Breaking Dawn Part 2. Oh, and he may have been one-half of a superhuge tabloid scandal when girlfriend Kristen Stewart cheated on him (they've since reunited, though he did K.O. her in the Celeb of the Year Semifinals).
Then there's Damon Salvatore, the resident bad boy on The Vampire Diaries, who recently consummated his relationship with Elena (real-life GF Nina Dobrev), much to the delight of Delena shippers. And we could be seeing a whole lot more of Ian in 2013, that is if he locks down that Fifty Shades of Grey role he's been campaigning for.
But with the two going fang to fang, which vampire has what it takes to come out on top? The choice is yours. Vote now and vote often: The polls close at midnight PT tonight.
Celeb of the Year 2012: The Finals