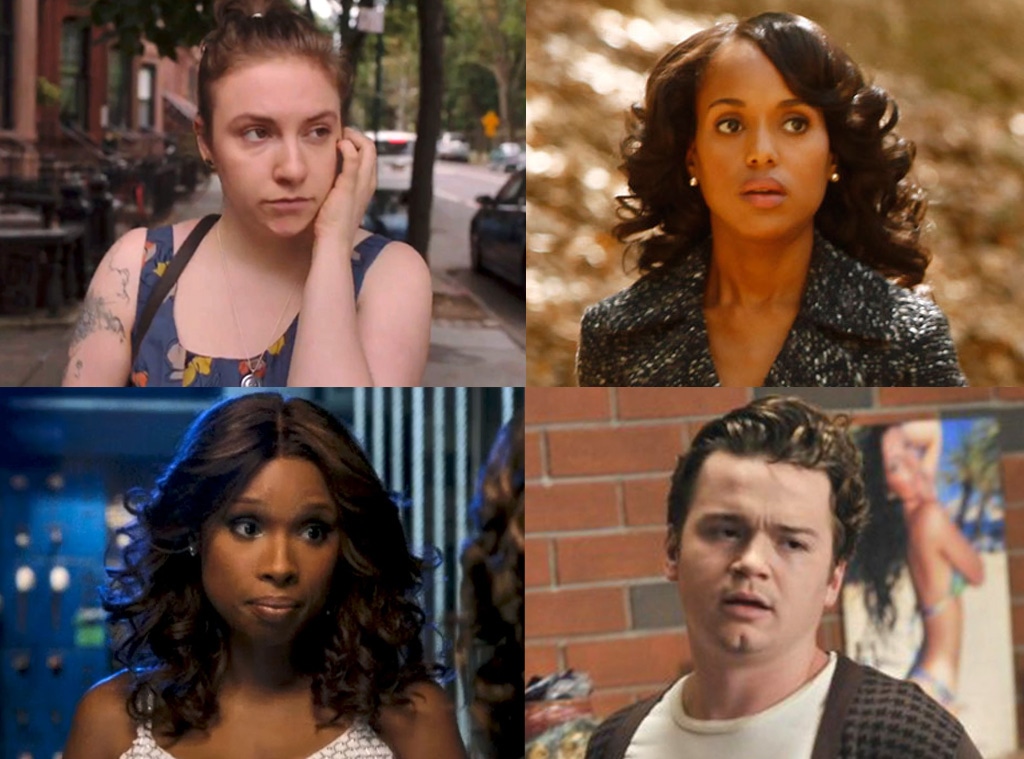 NBC, HBO, ABC
Merry Christmas, you filthy animals.
Hopefully Santa brought you all everything you ever wanted. But if it's TV scoop you're hoping for, we've definitely got something to fit under your tree. We watched the next episode of Scandal and the season premiere of Girls, and we are spilling! And we eliminate a couple shows from that pregnancy blind item featured last week. All that, plus scoop on White Collar, Smash and more in today's Spoiler Chat:
Jonathan: Scandal. Scoop. Now.
Seriously, get yourself ready because the ABC hit's Jan. 10 episode is insanely awesome and insanely nail-biting. Expect showdowns (Sally vs. Mellie! Olivia vs. Edison!), waterboarding (it's not pretty) and one word at the end of the episode will make you cry.
Lauren D.: Desperate for news on season two of Girls…please tell me it's good!
Well, we just watched the first four episodes of the new season and we're happy to say Lena Dunham is still a freakin' genius. As for what you can expect? A shocking hookup that could potentially destroy two friendships, a new (surprisingly sweet) relationship between Shosh and Ray and an arrest. Yeah, it's going to be a wild season.
Shawn: Cannot wait for Cougar Town to return! Got any scoop?!
The cul-de-sac crew will be taking another vacation together! The season finale will find them in California, but not really by choice. Seems like they all had some better options in mind before finding themselves in Los Angeles. ("Ouch," says Team WWK, who all live in L.A.!) Bonus scoop: Though she's still dating her solider BF, Travis will definitely be trying to date Laurie this season. Like or dislike?
Tess: I know you guys are huge Matt Bomer fans, so where has the White Collar scoop been?!!
Our apologies, we were just waiting until we got to talk to Matt "Piercing Blue Eyes" Bomer face-to-face before delivering scoop. We already found out who Neal's dad is, and in the midseason premiere, we will see that relationship explored. Plus, Hilarie Burton will be back as Sara, and Bomer tells us that they shot "amazing" scenes at the Empire State Building for the finale, including a huge cliffhanger.
Payton: Your pregnancy blind item has me very intrigued. Can you at least eliminate one or two shows so I don't go insane trying to figure it out?
Fine, you twisted our collective arm. The surprise pregnancy we are talking about in this blind item will not be happening on Happy Endings or Up All Night.  Want more clues? You'll just have to keep checking back on our Spoiler Chat.
Madison: Can you tell me about Jennifer Hudson's character on Smash?
She is talented, classy and very nice to Karen. It's quite a relief to see Karen have a good Broadway mentor, but there is something shady about her that we can't quite put her finger on. Maybe it's because she is too willing to be so nice to Karen, or maybe we're just skeptical of every character on Smash. Only time will tell.
Wendy in Los Angeles: I'm rooting for Dave and Alex on Happy Endings, so any scoop on them would be simply super.
A third woman will enter the Dave and Alex picture, but don't get your TV-watching undies in a bunch. It's actually a tarot card reader, who is trying to help Dave with his business. Unfortunately, Alex takes the card reader's predictions a bit too seriously in terms of their relationship. Needless to say, there might be trouble ahead.
—Additional reporting by Jenna Mullins and Tierney Bricker
Want your TV questions answered in our next Spoiler Chat? Email them to tvdiva@eonline.com or tweet at @KristinDSantos!