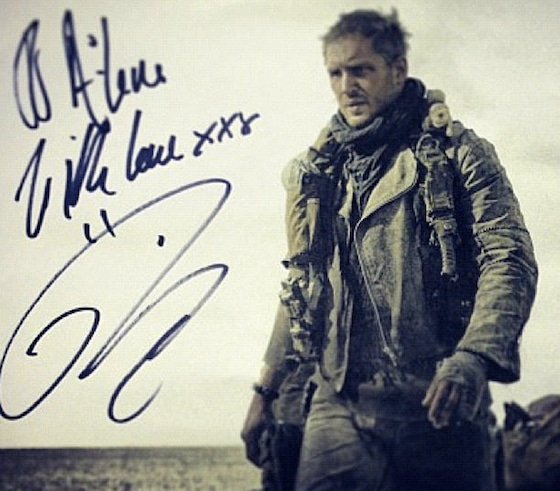 Twitter
Just in time for all this end-of-the-world talk, it's the latest incarnation of Mad Max Rockatansky!
Fresh from bootlegging in Lawless and attempting to annihilate Gotham City in The Dark Knight Rises, British hunk Tom Hardy looks ready to brave that post-apocalyptic dust in this first look at the title character from Max Max: Fury Road, courtesy of Ain't It Cool News.
Warner Bros. confirmed to the site that this autographed pic is of Hardy playing Max, the role made iconic by Mel Gibson.
Like the original franchise, Fury Road reportedly takes place in Australia, though most of the film was shot around Africa.
Charlize Theron, who notably shaved her head to play Imperator Furiosa; Nichoulas Hoult; Rosie Huntington-Whiteley; Zoë Kravitz, Abby Lee and Riley Keough costar alongside Hardy.
No official release date has been announced yet, but the film is expected to hit theaters in 2013.