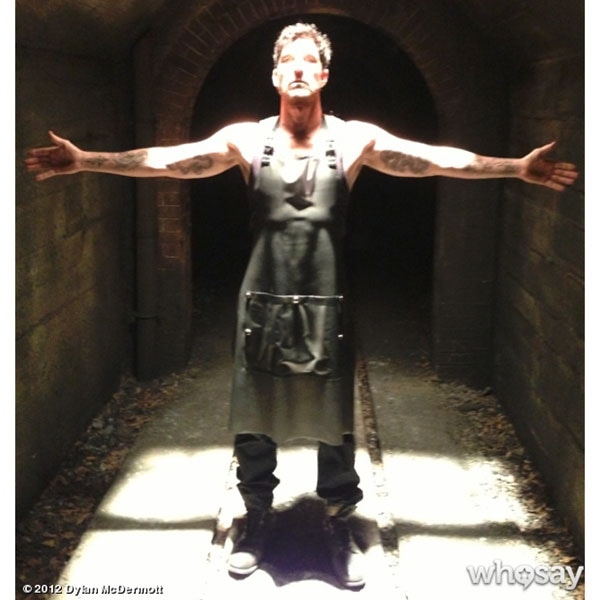 FX
It's going to be a long, long December, people!
Why? Because we have to wait until January for new episodes of some of our favorite TV shows, like American Horror Story: Asylum, The Vampire Diaries and Smash. Luckily, we've got juicy scoop on all three shows that'll keep you warm until they return, including spoilers straight from Dylan McDermott and who fans can expect to see Klaus go up against when TVD comes back. Oh, and you want to know all about season two of Smash? We've got you covered! Plus, we've got scoopy morsels on Homeland, Nashville, The Office and more!
Jane: Desperately in need of some Nashville scoop! Got anything to offer?
Though we'll stay mum on Juliette's possible engagement, we can confirm one partner she will definitely be spending a lot of time with in the second half of the season: Rayna! Yes, the two country divas will finally go on tour together and it's sure to be a dramatic affair, with the two ladies getting into fights often. Plus, some of the guys may just join them for a few stops, including Avery! (We can't wait to hear the music that comes out of all this, can you?!)
Terrance: American Horror Story scoop! I can't wait until next year for new episodes!
Dylan McDermott wants the audience to know that if you think you have his character figured out, think again. "Obviously he's a troubled man, but I think he's got a sole purpose in life and really that is, he feels so scorned by his mother. Everything is about his mother," he says. "He can't wrap his head around why someone would want to throw him out, throw him in the trash. So I think we're going to peek into his psychological world in the next three episodes and then we're going to have closure with his character in the finale.  It goes into the psychology and the pathology of who he is." 
Fiona in Atlanta: Will we get happy endings from Lana and Kit's storylines this year on AHS?
Um, we'll definitely get endings. "I think that you'll be satisfied in terms of what happens.  All the characters will definitely…you'll have closure with all the characters," McDermott reveals. "It's hard to wrap up the season in one show, but I think that having read it and now performing it, I think that you're going to be satisfied for sure."
Jessica: Any scoop on Klaus on The Vampire Diaries?!
Prepare for an epic showdown between Klaus and...Shane! You really didn't think those two would never come face to face, did you? Especially after Klaus learns that Shane was the mastermind behind the plan to kill 12 hybrids? Yeah, he's pretty mad. Watch out, Shane!
Gina: I hear you've seen the season premiere of Smash. Spill!
We just finished watching it, and we loved it! Oh, you want more? Fine, fine, fine. Within the first 10 minutes, you find out how where Dev stands with Karen, if Ivy has kicked that pesky pill habit, and what exactly has become of Joe Dimaggio aka Michael Swift. But our favorite part about the opening minutes of the season two premiere is the Ivy and Karen dynamic shift. This time, Karen is in charge and she is being very unsubtle about making Ivy feel on the outs. It's deliciously wicked.
I know you've been giving out Jim and Pam Office spoilers like it's free candy, so any chance there are some nuggets about Erin and Andy in your bag of scoop goodies?
That question just made us crave candy, so thanks for that. We've dug around our bag of scoop and came up with this info straight from Ellie Kemper regarding Andy and Erin's future: "My lips are sealed. I can't say anything but that love takes many turns." Bonus scoop: Kemper tells us that the NBC comedy is about to get bleak: "We have nine episodes left to shoot, which is weird. We're sort of taking it to some darker places, which I personally love," she says. "I'm actually so excited, but I can't give anything away. I'm so excited for people to watch." Uh-oh. Is there a Dunder Mufflin death on the way?!
Clint: Loved the Homeland season-two finale and really loved the producers' interview. Any chance I can get a bit more season-three scoop?
Executive producer Alex Gansa had this to say about season three as a whole: "One thing the show does promise is twists and turns as a nod to the thriller part. I think the show is always going to have the ability to surprise and whether that's plausible or implausible is for you to decide." When asked about the idea that Brody is behind the bombing in the finale, Gansa offered up this little bite: "We definitely deliberately left the door open a little bit to that possibility."
—Additional reporting by Jenna Mullins and Tierney Bricker

Want your TV questions answered in our next Spoiler Chat? Email them to tvdiva@eonline.com or tweet at @KristinDSantos!