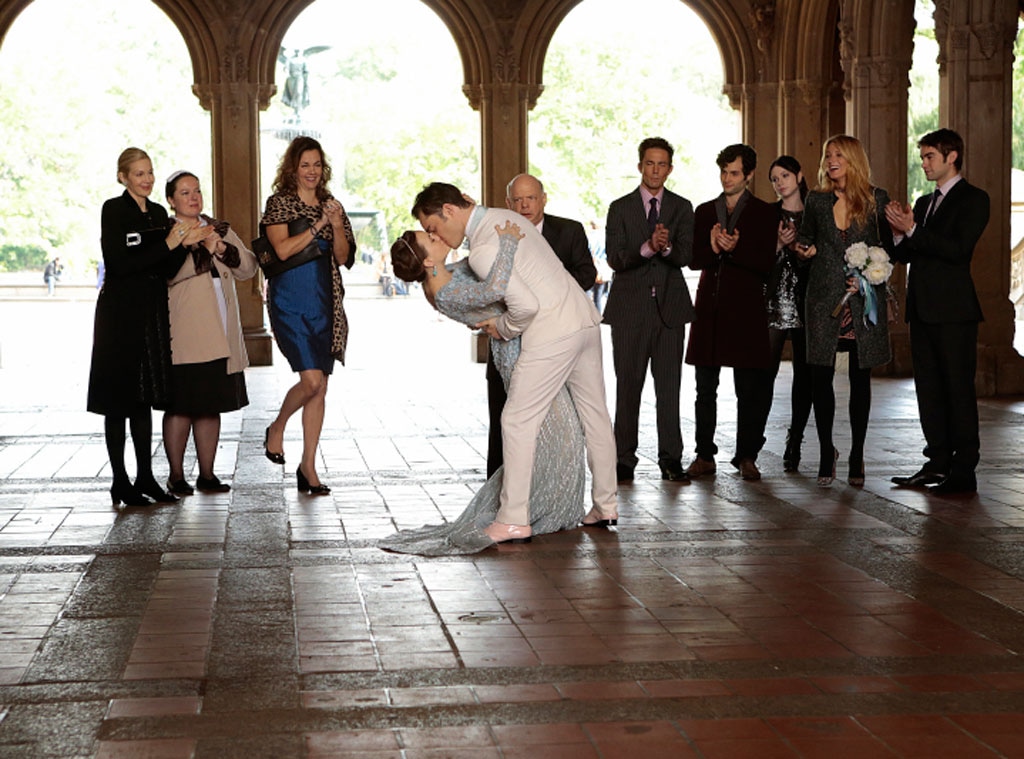 Giovanni Rufino/The CW
XOXO, Gossip Girl.
Tonight, fans of the CW hit soap heard those words for the last time ever, as Gossip Girl ended its six-year run with "New York, I Love You XOXO," an epic final filled with romance, cameos and big reveals, like the identity of Gossip Girl. Sure, the show has had its ups and downs, but isn't that part of its charm?
So did Chuck (Ed Westwick) and Blair (Leighton Meester) end up together? Were Dan (Penn Badgley) and Serena (Blake Lively) meant to be? And who is Gossip Girl? Plus, a star from The O.C. and Kristen Bell, the voice of Gossip Girl, popped up as guest stars!
Chair Happily Ever After: The episode picks up with Chuck and Blair running off after his father, Bart, fell to his death. Sorry, dude, but we're hoping your second brush with death actually sticks. You were kind of the worst. The cops are looking for the duo and their friends and family are covering for them. (Yay for the return of Eleanor and Cyrus!) Chuck and Blair meet up with his Uncle Jack (Desmond Harrington, as creepily awesome as ever) and Chuck admits he didn't help his father. "It was self-defense," Blair defends. "I don't feel guilty, but it doesn't mean that I'm not," Chuck says.
To protect Chuck, Jack says the two should get married so Blair can have "spousal privilege." "Every bone in my tired body wants to marry you," Blair says to a hesitant Chuck. "Chuck and Blair hold hands. Chuck and Blair go to the movies. You said you never wanted us to be boring; we definitely aren't now," Blair says to Chuck, referencing his infamous season-two speech. "Life with you could never be boring," Chuck says, before dropping to one knee and finally proposing.  
The pair bring their family and friends together for a quick service. Chuck brings back the pair's iconic "three words, eight letters," while Blair goes with, "One word, three letters: Yes!" Of course, their first kiss as man and wife is followed by his arrest and we'd expect nothing less from a Bass-Waldorf wedding! Alas, it ends a lot less dramatically than you'd expect: Bart's death is being ruled an accident. True love (finally) prevails!
G.G. Unmasked: So who was behind the site that spread nasty rumors and gossip and controlled our gang's lives for six years, leaving them forever nervous to check their phones every time they went off in fear that it was yet another Gossip Girl blast? Dan "Lonely Boy" Humphrey! Yes, the eternal outsider turned out to also be the insider.
So how do we learn Dan was "pulling the strings" all along? Cue flashback to Dan's first UES party, where he was invited by accident by Serena. "Once I got inside, I wasn't leaving, because that's when I saw you," Dan says, though Serena doesn't remember their first Hello Kitty-referencing encounter. Before he can confess to Serena, he decides to give his final chapter to Nate and Spectator, which reveals who Gossip Girl is. 
"I wasn't born into this world, maybe I could write myself into it," Dan explains after the big reveal happens. "I might have been a joke, but at least these people were talking about me." (He also reveals that Jenny [Taylor Momsen] knew it was him!) Serena defends Dan, saying he was just as hard on himself as he was on any of them. 
Kristen Bell Finally Appears! Though the Veronica Mars star has voiced Gossip Girl in every single episode of the show over its six-year run, she's never actually appeared on the show...until now. In a brief but fun cameo as...herself! Yes, Bell appears as herself helping a friend with an audition for Gossip Girl the movie. The friend? Rachel Bilson! Ah-mah-zing!
Fan Favorites Return: It just wouldn't be a true Gossip Girl finale if some of our favorite Upper East Siders returned, like Jenny and Eric (Revenge's Connor Paolo). Also popping up for quick cameos were Jessica Szohr as Vanessa, Arrow's Katie Cassidy as Juliet and Willa Holland as Agnes. All short, but sweet!
Five Years Later: Nate (Chace Crawford) is running for mayor of New York City (seriously?!); Chuck and Blair are married with a son, Henry; Eric and Jenny are around; Rufus (Matthew Settle) is with Lisa Loeb (!); Lily and William are together; Georgina (Michelle Tratchenberg) and Uncle Jack are together; and Serena and Dan are getting married! Oh, and Dorota is still working for Blair, natch. And yes, another lonely outsider seems to have picked up the Gossip Girl mantle. All is well on the Upper East Side, y'all!
So what did you think of Gossip Girl's swan song? Were you happy to see which couples ended up together? Were you surprised that Dan turned out to be Gossip Girl? Sound off in the comments and make sure to leave your questions for Stephanie Savage as we'll be talking to the show's executive producer tomorrow morning!