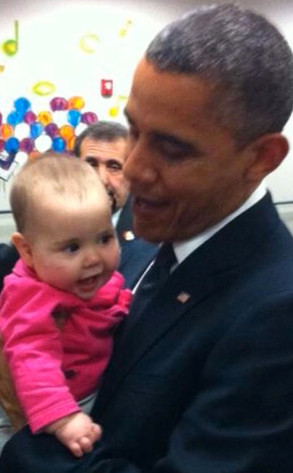 Twitter
Newtown, Conn., is still reeling from the senseless tragedy that took place Friday morning at Sandy Hook Elementary School.
On Sunday, President Barack Obama attended a vigil in the heartbroken town to remember the 26 victims. The devastated POTUS told Newtown they "are not alone" and that the town has "inspired us with stories of strength and resolve and sacrifice."
Sandy Hook principal Dawn Hochsprung's daughter, Cristina Hassinger, tweeted a picture of her daughter and Obama, writing, "My mom would be SO proud to see President Obama holding her granddaughter. But not as proud as I am of her."