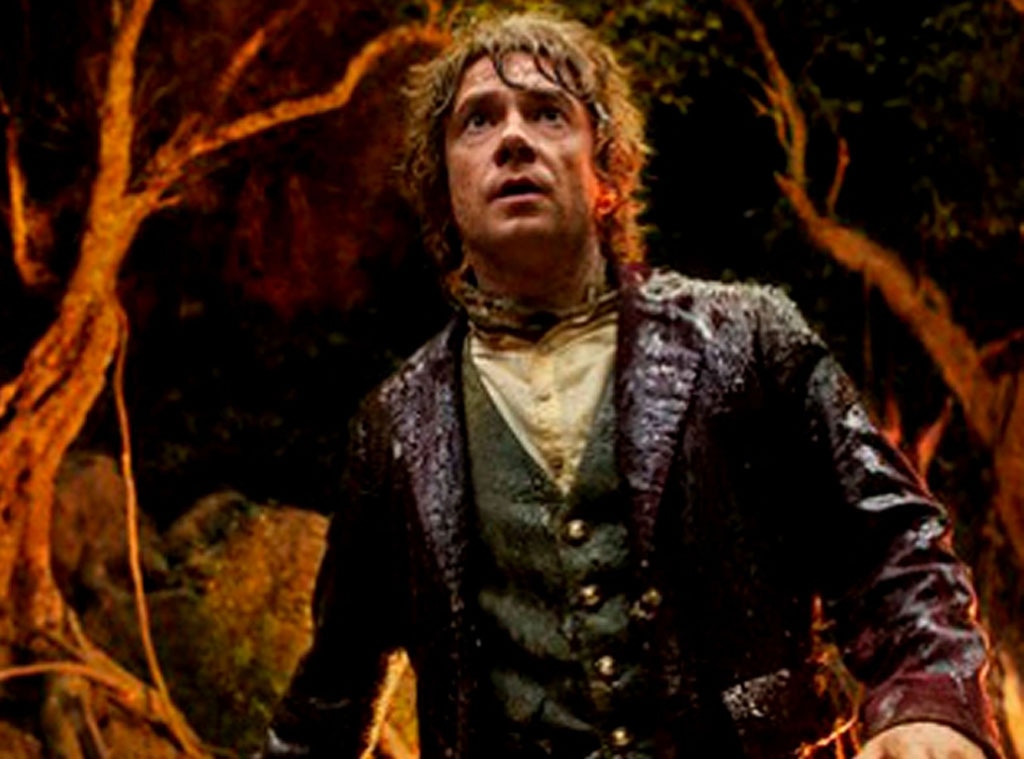 Warner Bros
The Hobbit: An Unexpected Journey is off to an expected start at the box office: big, promising and no, no record-breaker.  
The Peter Jackson epic grossed an estimated $13 million from opening-day, midnight-Friday screenings, its studio reported. Overseas, the movie grossed $27.3 million in its international debut in 42 markets. All together, the film's early worldwide total to $40.3 million. 
The domestic midnight take is a new mark for a December debut; the record previously was held by Jackson's The Lord of the Rings: Return of the King.
Overall, The Hobbit's start isn't enough to rank it among the all-time night-owl hits. It is enough, however, to put the film in good company.
"Keep in mind that even The Avengers did not have huge midnights and still killed the weekend," Hollywood.com box-office analyst Paul Dergarabedian said in an email Friday.
The Avengers debuted to a $18.7 million midnight en route to the movie industry's first $200 million-plus opening weekend.
Among the all-time biggest midnight hits, The Hobbit, like The Avengers, was no match for the Harry Potter and Twilight movies—mainly because it's not a Harry Potter or Twilight movie. Seven of the 10 top-grossing midnight movies collectively belong to the boy-wizard and vampire franchises.
On the whole, The Hobbit's performance, deemed "incredible" by BoxOfficeMojo.com, is the fifth-biggest midnight of the year, after The Dark Knight Rises, Breaking Dawn Part 2, The Hunger Games and The Avengers.
The Hobbit, Jackson's first directing effort since the underwhelming The Lovely Bones, and his return to J.R.R. Tolkien's Middle-earth after the mammoth success of The Lord of the Rings trilogy, has been met with mixed reviews and mixed buzz amid cries from animal-rights activists and moviegoers preemptively worried about the high frame rates. (Only about 10 percent of The Hobbit's 4,000-plus domestic screens will offer the film in the all-new, debate-provoking format.)
A three-day Friday-Sunday gross in the neighborhood of $100 million has been projected.
Here's a complete rundown of the top 10 all-time midnight debuts, as compiled per Hollywood.com stats:
Harry Potter and the Deathly Hallows: Part 2, $43.5 million
The Dark Knight Rises, $30.6 million
The Twilight Saga: Breaking Dawn Part 2, $30.4 million (includes 10 p.m. Thursday shows)
The Twilight Saga: Breaking Dawn Part 1, $30.3 million
The Twilight Saga: Eclipse, $30 million
The Twilight Saga: New Moon, $26.3 million
Harry Potter and the Deathly Hallows: Part 1, $24 million
Harry Potter and the Half-Blood Prince, $22.2 million
The Hunger Games, $19.7 million
The Avengers, $18.7 million