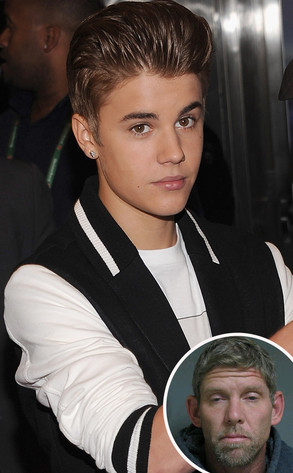 Dimitrios Kambouris/Getty Images; Vermont State Police
Pray Justin Bieber never has anything to do with this creepy Justin Bieber-related news.
Two fugitives arrested last month, one in Vermont and the other in New York, had plotted to kill the teen pop idol and several other people, according to New Mexico's KRQE News 13, which reports that investigators believe the two men were conspiring with a convicted murderer they met in prison.
The St. Albans Police Department in Vermont confirmed to E! News that Mark Staake, 41, and his nephew, Tanner Ruane, 23—both wanted in Albuquerque on charges of conspiracy to commit murder in the first degree and conspiracy to commit aggravated battery with a deadly weapon—were picked up by State Police in Vermont and New York, respectively, and are now being investigated in connection with the alleged Bieber conspiracy.