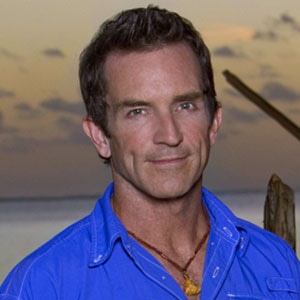 Monty Brinton/CBS
Six degrees of Zack Morris?!
That's the story of Survivor host Jeff Probst's life ever since he married Mark-Paul Gosselaar's ex-wife Lisa Ann Russell in early 2011—Gosselaar and Russell have two children together.
Probst sat down with Larry King on Hulu's Larry King Now to talk about his family and splitting custody with the Saved By the Bell and Franklin & Bash star.
"Well, they were together almost 20 years. They had a long marriage and they raised these two young kids," Probst explains to King of Gosselaar and Russell. "They raised them with the kind of love that the kids they see me, and he's now remarried, his wife, they just see us as two more parents." when King comments that the kids don't see Probst as a stepdad, the Emmy Award winner says, "They're not stepkids." Awww!
So do the kids call him dad? "They call me dad, and you know when it locked in? When we were together before we got married, they were playing with it," Probst recalls. "Sometimes it'd be dad, sometimes it'd be Jeff, dad two, sometimes it'd be D-2. But when we got married, when this ring went on my finger, Michael looked up and said, 'dad,' and I could tell that he knew now that this big thing was official and it was real."
It's nice to see two Hollywood families getting along, right?!