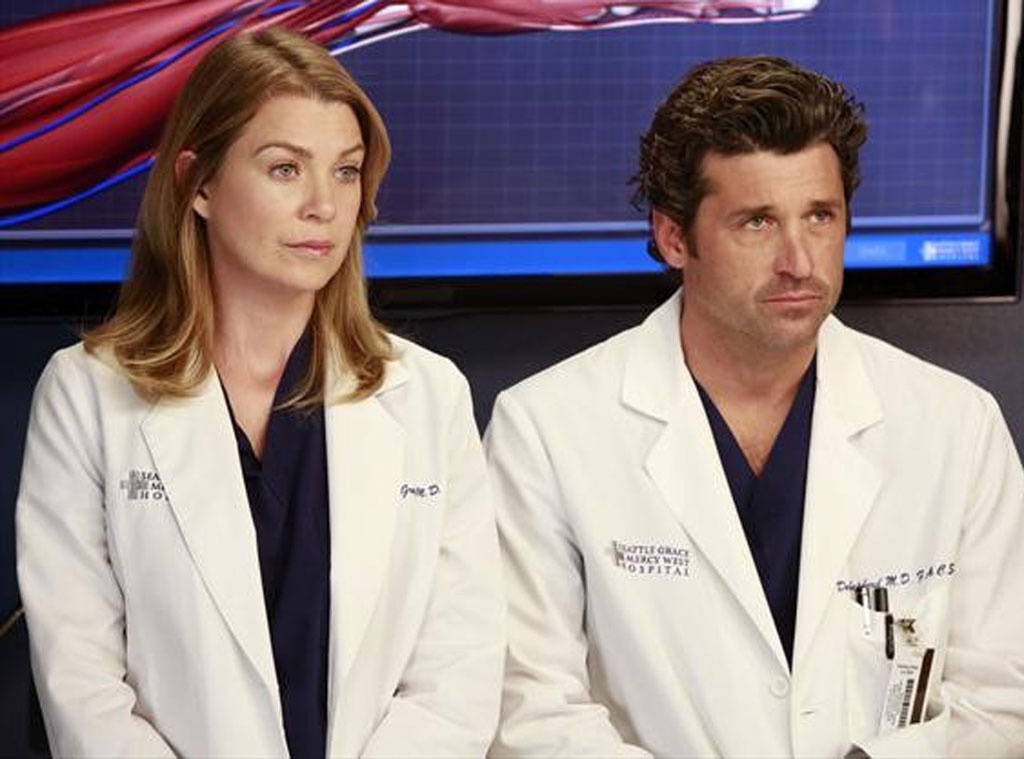 ABC/RON TOM
It's time for midseason finales and we've got juicy scoop on one of your favorite show's fall ender: Grey's Anatomy!
Even better? It's dish on fan-favorite couple Meredith and Derek and the latest obstacle they'll have to overcome! We've also got scoop on some of your other favorite duos, like New Girl's Nick and Jess, and Hart of Dixie's Zoe and Wade. Plus, spoilers on a Glee fan favorite's return in tonight's Christmas episode, as well as Homeland's finale and more!
Brooke in Silver Lake, Calif.: Any Nick and Jess moments I can look forward to on New Girl?
Episode 15 is the one for you. Jess accidently lets slip that she thinks Nick is "smoking hot" (to his face), and that leads to...well, we can't tell you anything beyond that. Just let your imagination run wild!
Monica: Thank you for the Grey's sneak peek! Any more scoop on Derek's hand?
Tonight's episode will be a turning point for Dr. McDreamy. "I think we think [this operation] is going to be the one, because clearly there are writing challenges if Patrick's character can't operate," Ellen Pompeo tells us. "So it's really been us at home and him dealing with the challenge of, 'What do we do about my hand?' We're getting toward the middle of the season now so they're probably going to have fix his hand and get him back in the OR and get him some storylines." Yes, please. We miss Derek's fine doctor skills!
Jennifer: Glee Christmas scoop?
The best character ever, Burt, will be back in the Christmas episode tonight and possibly playing a huge role in pushing Kurt and Blaine back together, even if just as friends. Oh, and Burt dies. At least, that's what Mike O'Malley told us. "Spoiler alert: I die! I die but I come back to life," he says. OK, he's kidding, but Glee did give him a heart attack so you never know. But even though we don't see Burt that often anymore, O'Malley is always willing to appear as Burt for as long as the show is on the air. "This season has been fantastic. I love the new cast members and the old cast members are still doing great," he gushes to us. "The show is alive and vibrant and awesome."
Heather in Philadelphia: So happy that Zoe and Wade are now official YAY! My favorite TV couple. Please tell me that Zoe isn't going to ruin it by acting all weird, per previews of the next episode.
Zoe will get kind of weird, but fret not, because she'll want to fix things with Wade as soon as she messes up. When a pal asks Zoe to be her maid of honor in an upcoming episode of Hart of Dixie, she initially turns it down in order to spend more time with Wade because "things are kind of weird" with him. Awww, isn't that sweet? Of course, Zoe eventually caves, and we all know weddings are perfect settings to romance your new boyfriend. We sense a sweet Zoe-Wade moment in that episode that involves a dance floor!
Kyle in Los Angeles: I am having serious anxiety over the Homeland finale. Can you tell me anything about what Sunday is going to look like?
It's going to look like you'll need an oxygen tank to get through the season-two finale. There will be so many twists, turns, red herrings and close calls in that one episode that you're rewind button will get a serious workout. We think we're being spied on right now, so we can't go too in depth about the storylines, but we will say this: Fans of Carrie and Brody will have so much to talk about on Monday morning, but we can't say if they'll be celebrating or mourning. Sorry!
Rob: Obsessed with your Office scoop lately. I'm greedy so can I please have more spoilers?
John Krasinski revealed to us that they are about to hit the home stretch of final episodes, which is when things start to get emotional, crazy and emotional again. "We're working so hard to get these episodes done before Christmas that we haven't even started working on the final eight," he says. "But there's only eight left that we're shooting, which is wild." When we asked if we will get a happy Jim and Pam ending, Krasinski was much more optimistic than his onscreen wife, Jenna Fischer. "God, I hope so. I hope there's a happy Jim [ending]."
Trish: You never talk about Mike & Molly, which has one of the most adorable married couples on TV! Scoop please?
Lucky for you, we chatted with Billy Gardell recently about what's coming up for Mike and his onscreen wife Molly. "Mike and Molly are trying to have a baby right now. And it's not going so good, so we're running into antics that way," he tells us. Gardell is "hopeful" that Molly is knocked up before the end of the season, but we get the feeling that her pregnancy will be a season finale surprise.
—Additional reporting by Jenna Mullins

Want your TV questions answered in our next Spoiler Chat? Email them to tvdiva@eonline.com or tweet at @KristinDSantos!