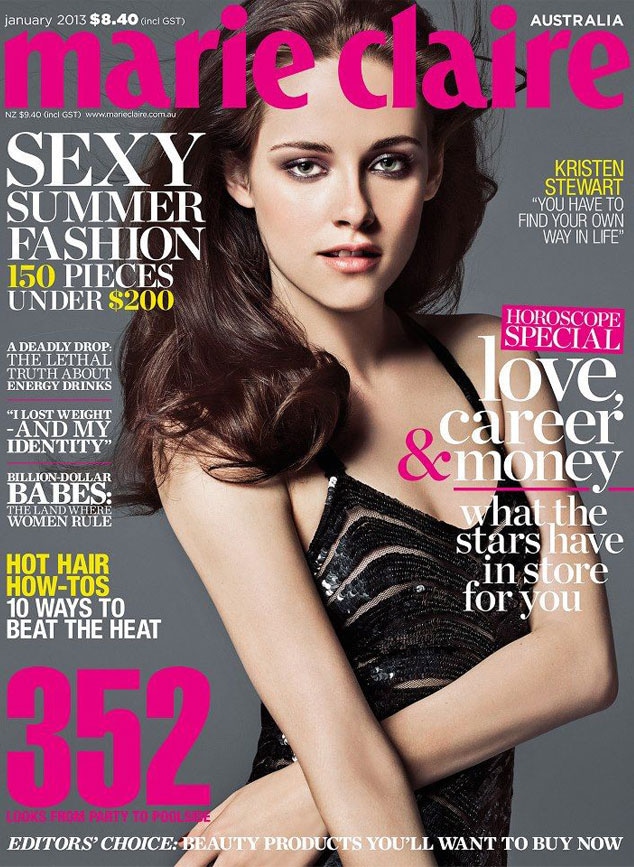 Australian Marie Claire
The Twilight Saga may be officially over, but Kristen Stewart's not slowing down anytime soon.
The wildly successful 22-year-old star stuns on the cover of Marie Claire Australia's January 2013 issue and talks fashion, fame and the next chapter of her life, post-Bella Swan.  
"I'm sort of bored now," she confessed to the mag. "I wanna work on something and maybe it doesn't have to be an acting job. I've been hanging out with my dogs and my family and, to be honest with you, I'm still catching up on sleep. I've worked for two years solid, literally since Eclipse. But I'm itchy now. I wanna do something." 
K.Stew's already jam-packed her schedule since the MC interview took place.  Her indie flick, On the Road, will finally hit theaters in the U.S. on Dec. 21 (after a seemingly never ending promotional tour), and she's set to costar alongside Ben Affleck in an upcoming comedy which starts filming in April.
But despite her itch to keep making movies, the Twilight babe admits she's never gotten used to fame and the celebrity spotlight:
"I'm particularly weird because I don't even like being looked at," she confessed. "A lot of actors love it and they love going out and literally doing it as an activity. I hate it." 
One thing the accomplished actress has gotten used to? High fashion. And the face of Balenciaga's Florabotanica fragrance reveals that she's honored to represent the brand:
"It was one of those things that just felt right," she says of her partnership with the iconic fashion house. "I'm a huge fan of the fashion world now that I've been allowed to be a part of it, even if oftentimes I don't know what I'm wearing."
But although she's stunned on many red carpets (she earned rave fashion reviews for her Breaking Dawn tour de la couture), don't expect Robert Pattinson's other half to ditch her signature Converse and unkempt style. 
"I don't especially enjoy the process, to be honest," she says of getting red carpet ready, while also revealing she has a six-member prep team. "I have a lot of actor friends who love getting ready for something just because they feel kind of important. I don't identify with that. But being in the public eye, I'm expected to look good and I understand that."
Leave it to K.Stew to stay true to herself—whether she's in high-fashion couture or her BF's baseball cap.