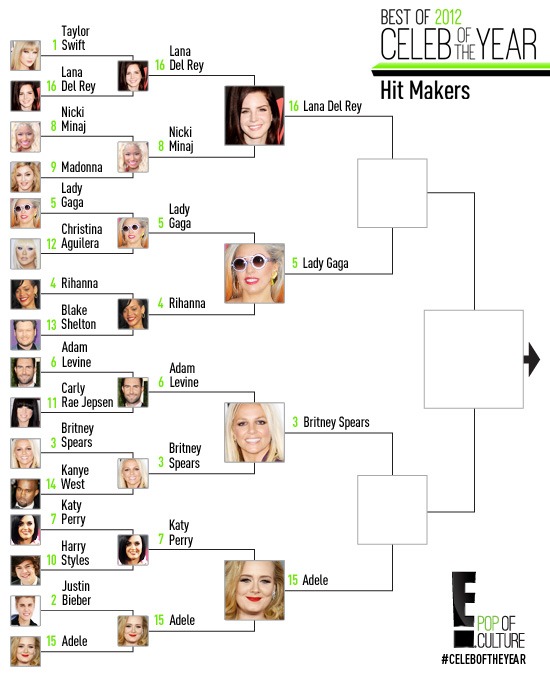 It's ladies night at the club. Or in the E! Celeb of the Year tournament, at least. We started off with 16 of the hottest Hitmakers on the music scene and eliminated half of them going into Round 2. And we've cut half of 'em again for Round 3.
And our Final Four are all, you guessed it, pop divas. Sorry, Adam Levine, but you're still our favorite coach on The Voice. As for which songstresses made the cut, well, it's a whole lotta blonde. And one black horse brunette who's rocking the competition.
Nicki Minaj might have sharpened her claws cat fighting with Mariah Carey, but even she was no match for Lana Del Rey (AKA the crooner who kicked Taylor Swift out of the competition). But Ms. Del Rey might be up for her toughest challenge yet: Can she K.O. Lady Gaga?!
And then there's the princess of pop, Britney Spears, who eliminated poor Mr. Levine and will now will take on Grammy darling Adele. So, which blonde beauty has the right stuff—or should we say the x factor—to move on to the next round?
From four to two, the choice is yours!