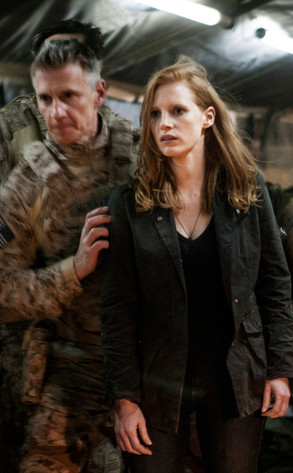 Columbia Pictures
There's one thing everyone who watches Zero Dark Thirty—Oscar-winning director Kathryn Bigelow's take on the manhunt for Osama Bin Laden starring Jessica Chastain—will surely agree on: It's intense. As in, two hours of edge-of-your-seat, white knuckle-worthy cinematic intensity.
For some, that's a good thing and could ultimately lead Zero to an Oscar Best Picture win (it's guaranteed a nom, at the very least) and a Best Director win for Bigelow. To others, it's another component of what all adds up to a pro-torture propaganda piece.
"No waterboarding, no Bin Laden: that's what 'Zero Dark Thirty' appears to suggest," New York Times writer Frank Bruni claimed about early sequences in the film that depict, notably, an agent named Dan (Jason Clarke) using "enhanced interrogation methods" on a detainee.