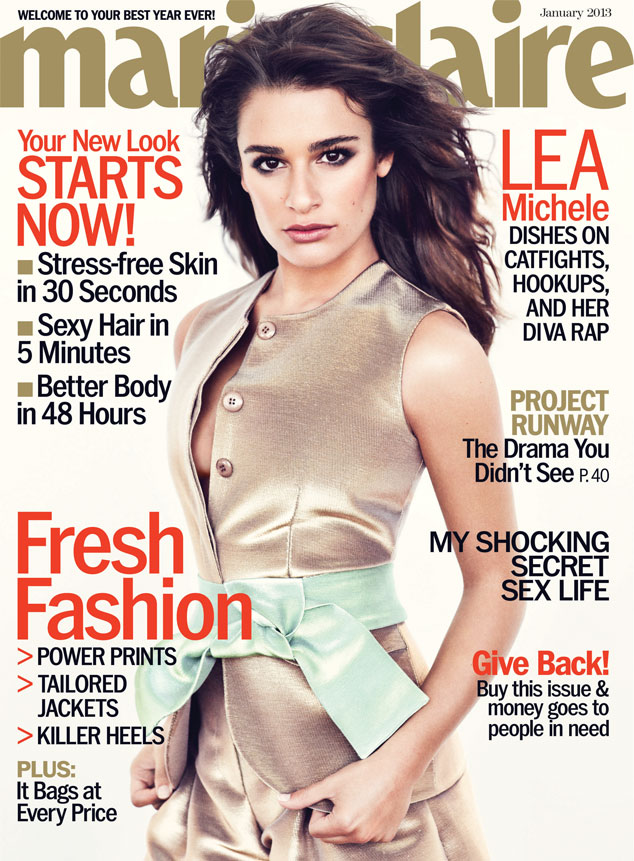 Marie Claire
Lea Michele isn't one to hold back.
Speaking in Marie Claire's January issue, the Glee star opened up about her relationship with Cory Monteith and her alleged "feud" with Kate Hudson.
"I don't even remember a time when he wasn't my boyfriend," she said of Monteith. "No one knows me better than Cory. No one knows what it's been like to go through this more than he does…He makes me feel like I can do anything."
"For the first time in my life, I feel really, really settled and happy," she gushed. "I feel like the luckiest girl in the world."
As for tabloid rumors this summer that she and Glee guest star Kate Hudson didn't get along? Michele told the mag that Hudson called her and said "I just heard about that, and it f--king sucks. I want you to know I think you're amazing."
After that, Michele said the actress went "straight to the top of my list because it was so classy of her to take a minute to [address the rumor], even though we both knew it was the biggest piece of crap in the whole world. I told her 'I love you, and I adore you. Thank you so much for creating a human moment with me.'"
The new issue of Marie Claire is on stands Tuesday.