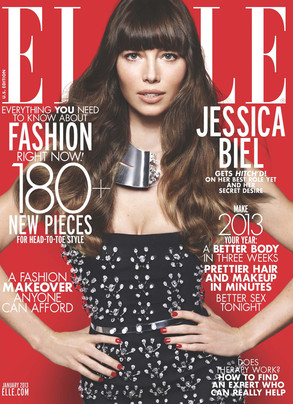 Thomas Whiteside / ELLE
From her pretty in pink wedding day look to the slew of showstopping red carpet gowns she turned out for her Total Recall and Hitchcock press tours, Jessica Biel's had a fiercely fashionable year. We counted Mrs. Timberlake among our Top 10 Stylish Stars of 2012, and it seems the newlywed has been a hit among some of fashion's most renowned designers, too!
In a rare move, fashion heavy hitters like Jean Paul Gaultier, Christian Louboutin, Azzedine Alaïa, and Biel's wedding dress designer, Giambattista Valli, posed alongside the stunning star in the January issue of Elle. Biel, who also graces the mag's cover, shows off the designers' decadent looks, while hanging out with the men in in their ateliers, the Musée d'Orsay and luxury hotels. You know, all the typical places you would hit if you were BFFs with fashion's most fabulous guys.
Check out Biel in drop-dead gorgeous designs from her buddies, like Louboutin's red-hot heels and Alaïa's super sexy python bra, plus too-cute shots of her holding Louboutin's hand and fiddling with Valli's necklace.