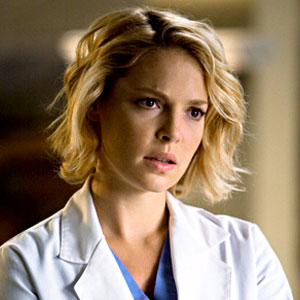 ABC/RANDY HOLMES
We don't think Katherine Heigl will be returning to Seattle Grace any time soon!
The former Grey's Anatomy star, who exited the ABC series in season six, courted controversy in 2008 when she removed her name from Emmy consideration. Her reasoning behind the decision? Heigl felt that she wasn't "given the material to warrant a nomination." Ouch.
Now, four years later, series creator Shonda Rhimes is addressing Heigl's decision during an interview with Oprah Winfrey on Oprah's Next Chapter, airing this Sunday on OWN.
"On some level it stung and on some level I was not surprised," Rhimes says of Heigl's decision. "When people show you who they are, believe them. I carry that [mantra] with me a lot. It has served me well."
Heigl, who played fan favorite Dr. Izzie Stevens, later apologized, telling Entertainment Weekly, "At the time I thought I was doing the right thing...I just was afraid that if I said, 'No comment,' it was going to come off like I couldn't be bothered to [enter the race]. But really, I could have more gracefully said that without going into a private work matter. It was between me and the writers. I ambushed them, and it wasn't very nice or fair."
The 27 Dresses and Knocked Up actress won an Emmy for her work on the show in 2007 and earlier this year expressed interest in returning. "I've told them I want to," Katherine told us. "I don't know... Being a showrunner and being a writer of a TV series like that is so complicated that I mean [Shonda]'s got how many characters are there now? There's a lot and so she's balancing about 40 different storylines, so I don't know if it fits in to their sort of vision for this season or next or however many seasons it goes."
You can check out the rest of Rhimes' interview with Oprah, which also features Scandal star Kerry Washington, Sunday at 9 p.m. on OWN.