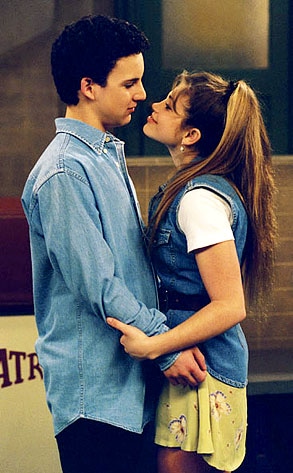 ABC
So…when Girl Meets World, will TGIF'ers get to see any memorable Boy Meets World stars return?
Don't get us wrong, we are delighted Ben Savage and Danielle Fishel are back, but what about Rider Strong or Bill Daniels? Will there be a reunion of sorts? So many questions!
Lucky for us Ben just spilled a few details about what's to come on the Disney reboot:
"We're going to wait and see what happens," Ben told Rolling Stone about returning characters. "Obviously, I don't want to give away too many details. But there's definitely been discussions about some of everyone's favorite characters popping up in the show and making appearances."
The show is set to shoot in February, and Cory Matthews, er, Ben Savage says they will do their best to make the show hold up.
"We want to do justice to the characters, and we want to make sure we respect people's memories of the show," Savage assures. "We're really working hard and doing everything we can to make sure that this is going to be something special and funny, and hopefully it'll make new memories for a new generation."
So what took Girl Meets World so long to get going?
"I think it was just a matter of making sure all of us were on the same page about what we were going to do in terms of making the show last another seven years, hopefully," the 32-year-old actor said. "There were different options…but it just seems a little poetic that we're coming back 13 years later and it's following our daughter's character. I like that concept. It's kind of passing it off to the next generation."
Anyone else feeling old, but excited?