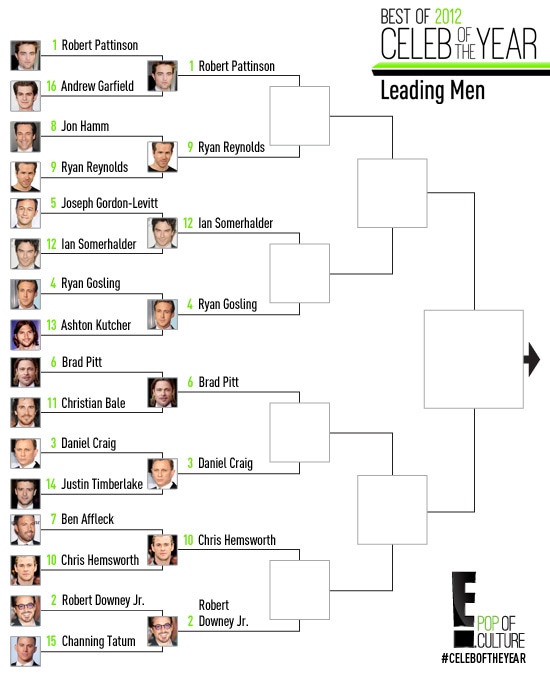 Our E! Celeb of the Year tournament is about to get very intense as we move into round two of your favorite Leading Men. Bet the superheroes and spies in the bunch are happy they had to endure all their training now—you'd hate to crack under pressure!
After presenting 16 of the biggest marquee names in one (super sexy, if we do say so ourselves) NCAA-style bracket, you separated the kinda sort just fine actors from the bona fide big screen gods, worthy of earning this illustrious title.
And now the pool has been cut to the Elite Eight.
The Leading Men pairings were some of the most heated battles yet, with only mere percentage points separating the victor for the loser. Like in the case of Brad Pitt vs. Christian Bale, where Angelina Jolie's fiance just barely eliminated Batman.
Robert Downey Jr., Daniel Craig and Ian Somerhalder had similarly close calls, while it was a much easier battle for Robert Pattinson and Ryan Gosling. Because, well, duh. It's Edward friggin' Cullen and Ryan friggin' Gosling.
But now we must go from eight to four. The choice is yours!