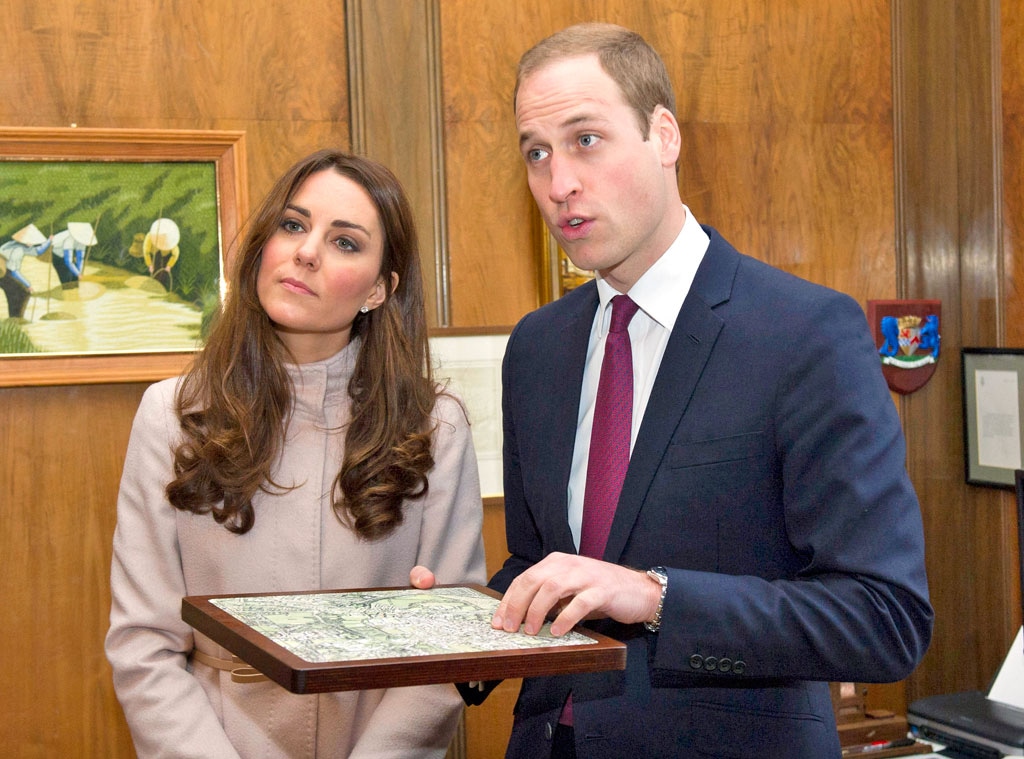 Arthur Edwards - WPA Pool /Getty Images
Well, that happened. "That," of course, being Kate Middleton's accidental seeming almost-reveal of the gender of the royal baby she's expecting with Prince William.
And while the Duchess of Cambridge censored herself just in time (or, judging by the column inches her aborted starts-with-D utterance has racked up, way too late), it hasn't stopped royal watchers from all but declaring outright that the royal heir will be a girl.
Still, the palace isn't talking, and royals have historically not revealed the sex of their little ones prior to birth. So while we have to wait another five months or so until we find out for sure whether the Waleses have a little boy or girl on the way, there's nothing to stop us from hypothesizing on what said little boy or girl may be named.
And that score, at least, is a little easier to settle.
Neil Warner / Splash News
First of all, there's a bevy of perfectly good family names to choose from: Philip, Elizabeth, Charles, George, Henry (as in VIII), Richard (as in III). Diana, maybe? They could always really cut originality corners and go for Catherine or William. Or, if it's a boy, they could pull a Tenenbaum and just name him Royal.
But this isn't any ordinary baby naming. Along with football and cricket, obsessing over Middleton's crumpet in the oven has already become a national pastime—in fact, this may be the most important game of wait-and-see Great Britain has played since the insufferable wait for a glimpse of the Duchess of Cambridge's wedding dress! 
First of all, here's what we won't see.
"William and Kate, by nature, are just very traditional," Victoria Arbiter, ABC's royals contributor and daughter of former Queen Elizabeth II press secretary Dickie Arbiter, tells E! News.
"You have to remember they are naming the future king or queen. So you won't want to see something silly, like Queen Suri, which would be fine if you are playing dress-up but it is not quite appropriate for when you are the queen of 16 nations. They are going to be very careful when naming their child, so we will see something traditional."
And, very likely, something that borrows from one or more of the baby's royal relatives.
"I think my personal choice would be Alexandra for a girl, which is the current queen's middle name," says Arbiter, calling it "beautiful" and "traditional." "Then with middle names we would see, again, a homage paid to the queen with Elizabeth," which also happens to be Middleton's middle name.
"We may well see Frances, which is Diana's middle name. I don't think we will see Diana or Frances as a first name; it is just too much of a cross to bear," Arbiter muses, "but I wouldn't be surprised if William honors his mother in some way." 
Same standards apply if it's a boy—so probably no Zumas or Lions.
"When we are looking at boy's names, I wouldn't be surprised if we saw George as a first name as a tribute to the queen's father," Arbiter says. "What is nice about George is it has become a bit trendy, cool and fun again without being silly. We may also see mention of Philip, possibly Charles for William's father. We may see Arthur, which is a middle name that both William and Charles share. All very traditional." 
Of course, playing guess-the-name is really a crapshoot—and British betting house Ladbrokes is doing its best to make the speculation a real gamble!
Elizabeth is currently the 8-1 favorite if it's a girl, the waging experts revealed this morning. Frances and Anne are also in the mix at 10-1 and 12-1, respectively. John and Charles lead the baby-boy charge, tied at 10-1, with Philip (14-1) and Edward (16-1) prominent possibilities, as well.
"Kate and Wills pulled the wool over our eyes, but now attention turns to the name of the baby and it looks like the couple will stick with a traditional name," said Ladbrokes spokeswoman Jessica Bridge, referring to the couple beating the favored odds that they'd announce a pregnancy in 2013 by about a month. "If they're expecting a girl, who better to name her after than Her Majesty?" 
She means Elizabeth, not Suri, right?
And speaking of Her Majesty, what sort of title would Queen Elizabeth's third great-grandchild carry once he or she arrives and assumes the royal crib?
"Buckingham Palace has made it very clear that any children born to William and Kate will automatically be prince [or] princess," Arbiter tells E! News. "At this point, it is a bit early to say what title they would carry. They may well go with Cambridge just in keeping up with their parents, they may well take Wales, which is what William has always gone by.
"And one day, if it is a firstborn son, he may be bestowed the title Prince of Wales. So I think we are most likely to see them with either Wales or Cambridge."
But while great-grandma gets to bestow the formal part of the nomenclature, naming the little heir truly is up to mum and dad, according to Arbiter.
"Remember, William has grown up knowing what is expected of him and the queen trusts him," she says. "She doesn't run the family business as a dictatorship. She is very keen on everyone living their own lives and making their own choices. I don't think she would particularly appreciate a name like King Moses, but I don't think William and Kate would choose that name, either." 
Sorry, Gwyneth, you can't set all the trends.
(Originally published on Dec. 4, 2012, at 4:24 p.m. PT)