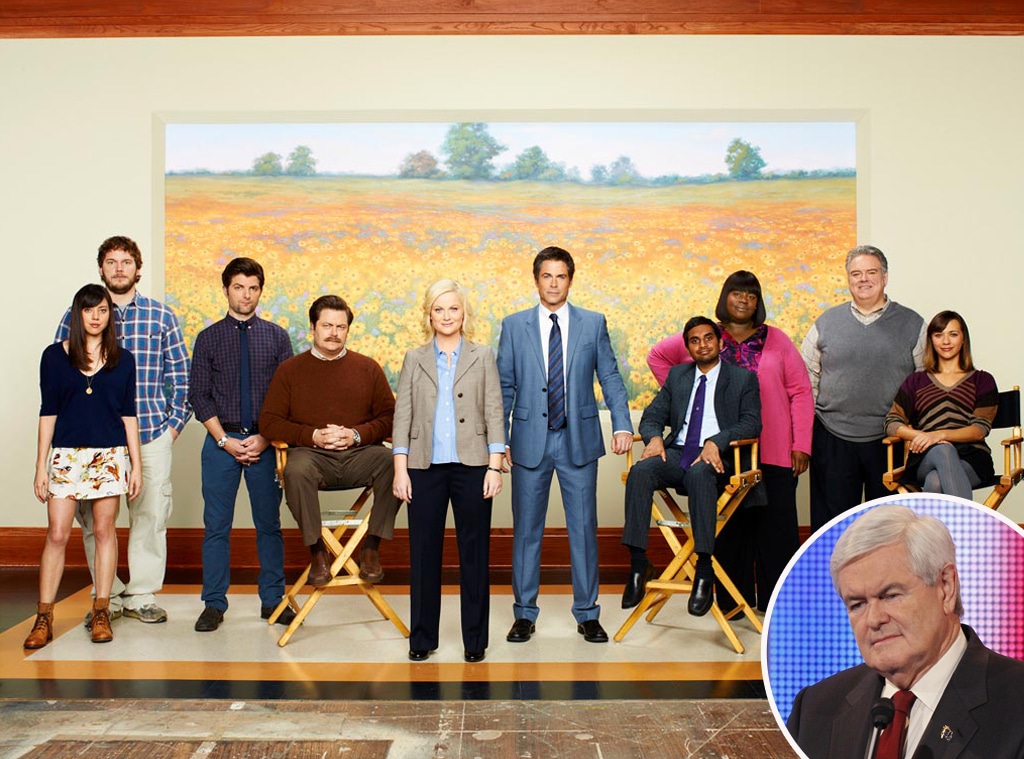 Mitchell Haaseth/NBC; Matthew Putney/ABC
Leslie Knope will be devastated she missed this.
In a stranger-than-fiction twist, Newt Gingrich filmed a cameo appearance on Parks and Recreation  Monday—and the whole thing was totally unplanned.
The Los Angeles-based NBC comedy was on location in Indianapolis when the former Republican presidential candidate and House speaker unexpectedly walked into a restaurant where filming was taking place and was immediately welcomed by series co-creator Mike Schur. "It was a completely random chance," Schur told the Indianapolis Star. "But you can't pass up an opportunity like that."
Which is why he quickly incorporated the politician into the episode's storyline, which finds Ben Wyatt (Adam Scott) living it up at his bachelor party before tying the knot with Leslie (Amy Poehler), the mayor of fictional Pawnee, Indiana. While Poehler wasn't present for the filming, co-stars including Rob Lowe, Nick Offerman, Aziz Ansari and Chris Pratt were all in attendance, as well as Indiana Pacers players Roy Hibbert and Miles Plumlee, who were already scheduled to film cameos.
According to Gingrich, the spur-of-the-moment guest shot is ultimately thanks to a lunch recommendation from his driver. "The driver said St. Elmo Steakhouse," the politician told ABCNews.com. "And when I walked inside, I saw Rob Lowe.
"It was great fun," added Gingrich, who was reportedly in town to meet with Indiana Governor Mitch Daniels. "It was especially great chatting with Rob. We have a mutual interest in General Grant and the Civil War."
Lowe seemed to get a kick out of hanging with the politician as well. "I love, ironically, that we had to come to Indianapolis to have Speaker Gingrich," the actor told the Star. "We didn't have him in Washington. We have him at St. Elmo's."  
Gingrich is not the first politician to make a Parks and Rec cameo, of course. Vice President Joe Biden and Senator John McCain have popped up in recent episodes as well.
Parks and Rec fans can check out Gingrich's acting chops for themselves when the episode airs in January.