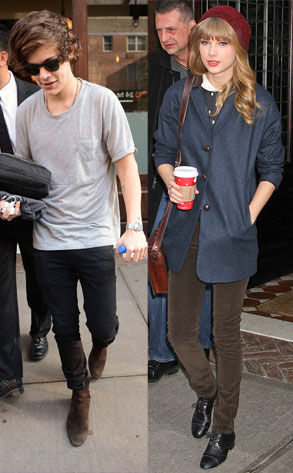 Ordonez/JT/INFphoto.com, Dara Kushner/INFphoto.com
It's not a walk of shame—it's a stride of pride!
Harry Styles was caught leaving Taylor Swift's New York City hotel Tuesday morning. The One Direction boy-bander appeared to have spent the night with the "I Knew You Were Trouble" singer following his band's Madison Square Garden concert and evening of karaoke at the Hudson Hotel.
An eyewitness tells E! News that Harry, 18, and Taylor, 22, exited the Greenwich Hotel separately around 11:30 a.m. "There were no fans," the eyewitness said. "Just paparazzi."
Harry wore Ray-Ban sunglasses, a gray T-shirt (a different shirt than the one he was wearing when he and Taylor went into her hotel) and what appeared to be the same black pants and brown dress shoes. Taylor, classy little lady she is, ditched her black dress from the night before and changed into a fresh, new ensemble.
According to the eyewitness, the duo got into separate cars. Taylor then went on to meet some friends at a restaurant called Cookshop for lunch.
Wonder what that conversation was like.
—Reporting by Claire Pires