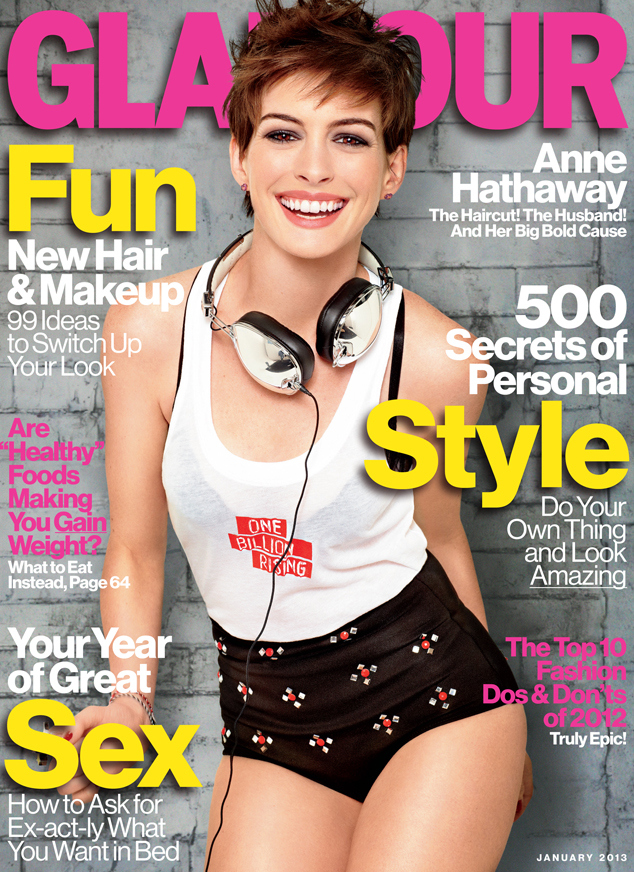 Alexei Hay/Glamour
All hail Anne Hathaway.
The 30-year-old star, who is newly married and already generating Oscar buzz for her film Les Misérables, rocks the cover for Glamour magazine's self-expression issue in which she talks marriage, weight and that famous Fantine haircut.
Looking sexy and chic in black hot pants and a limited-edition Monrow tank, the Dark Knight Rises actress shares her struggle to stay true to herself in the harsh Hollywood world. 
"I realized that the life I'd been living [was not authentic] and that I had to make a change," Hathaway says of her attitude after filming Rachel Getting Married. "Then I found out that my trust had been betrayed quite massively. So for me, that call came at the end of 2007," she reveals, referring to her broken engagement with her then fiancé who was jailed for embezzlement. 
She continues, admitting that it's still hard to ignore the Hollywood standard: "I'm letting go of those expectations, and that's opening me up to moments of transcendent bliss. But I still feel the stress over 'Am I thin enough? Am I too thin? Is my body the right shape?'"
Despite Anne's years of experience in the biz and her 25-pound weight loss for her role in Les Mis, she reveals that she still struggles with self-image just like any average girl (and the endless eyes of the paparazzi aren't exactly a confidence booster): 
"If I'm honest, yes," she confesses when asked if her weight is an everyday obsession. "There's an obsessive quality to it that I thought I would've grown out of by now. It's an ongoing source of shame for me."
"I just think about the ridicule you get if you have an off day," Hathaway says, while noting that it's "news" if she simply walks her dog. "If people weren't watching, I'd be so much more eccentric…I actually really don't feel like getting made fun of. So I put on something boring and navy and go out and try to disappear."
There is one person in Hathaway's life who always makes her feel beautiful: her hubby, Adam Shulman, whom she married in late September, and Hathaway admits the pair couldn't be happier as husband and wife. "It's wonderful," she says of married life. "I feel like I've found my other half, and I'm so excited about getting to love him for the rest of our lives." 
The former marriage skeptic also reveals that Adam changed her outlook on love:
"I would never have gotten married if it weren't for him… Marriage for marriage's sake doesn't make any sense to me, and I found someone with whom I could put my money where my mouth is, I guess."
Hathaway also discusses her famed Fantine haircut in the mag, which she chopped off onscreen to create an authentic feel. "I almost couldn't do my job," she says of filming the iconic scene. "When it was over, I went to the darkest corner of my trailer and I looked in the mirror, and I saw my little brother! But eventually I felt like the coolest girl in the world."
Cool, classy and chic. We adore you, Anne!