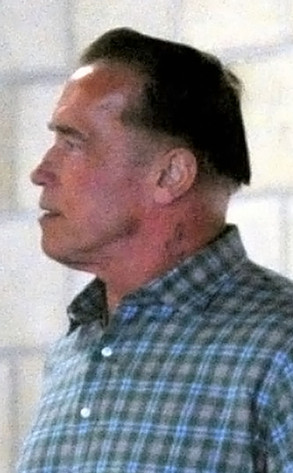 Splash News
No, Arnold Schwarzenegger not playing Moe in another Three Stooges reboot.
Bidding hasta la vista to the more traditional (and dare we say handsome?) hairstyle he's sported for years, the erstwhile Terminator star was snapped leaving lunch with a friend last Saturday in the Brentwood neighborhood of Los Angeles while showing off again a very out-there bowl cut.
It's not the first time the 65-year-old Schwarzenegger has stepped out with the new 'do, having been photographed back in October with it and sporting some strange tattoos on his neck and the tops of the fingers on his left hand.