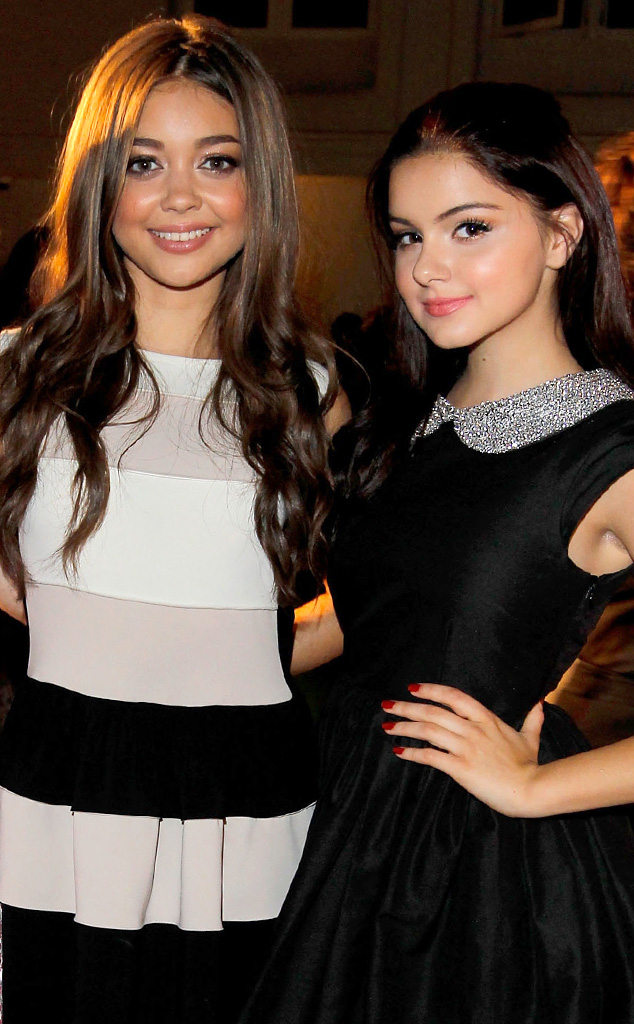 Donato Sardella/WireImage
Ariel Winter may be going through some major family drama right now, but it's good to know she has her Modern Family peeps to lean on.
Sarah Hyland, who plays the 14-year-old's older sister on the hit series, says they really are like, well, family.
"Ariel is like a little sister to me," Hyland, 22, told me at yesterday's Trevor Live benefit for the Trevor Project, a suicide hotline for LGBT youth. "I love her to death and try to talk to her every week at least [or] I try to text her because we haven't been working right now. I just want the best for her."
"I'm just trying to watch out for her," Hyland added.
Now, that's family!
A judge granted Ariel's real life older sister Shanelle Gray temporary guardianship of the young actress late last month after investigators from the Los Angeles County Department of Child and Family Services reported that they found evidence of emotional abuse wrought by Ariel's mother, Chrisoula Workman.
The judge ordered Gray's camp to turn over tax records and income and expense declarations at the request of Workman's lawyers, who argued in court documents filed Nov. 26 that the financial records were necessary to determine whether Gray is "suitable and able to provide adequate and proper care and has the financial ability" to support Ariel.
"Getting something is a win as opposed to getting nothing," Workman attorney Anita Gum told E! News.
UPDATE: In the wake of reports that Shanelle Gray's mother has requested financial documents, a source tells E! News, "Shanelle does not need nor want Ariel's money. Shanelle is perfectly capable of taking care of her sister's wants and needs, without the additional income of her sister Ariel. Shanelle and her husband own a credible acting school together, their financial situation is just fine."
(Originally published Dec. 3, 2012, at 1:05 p.m. PT)