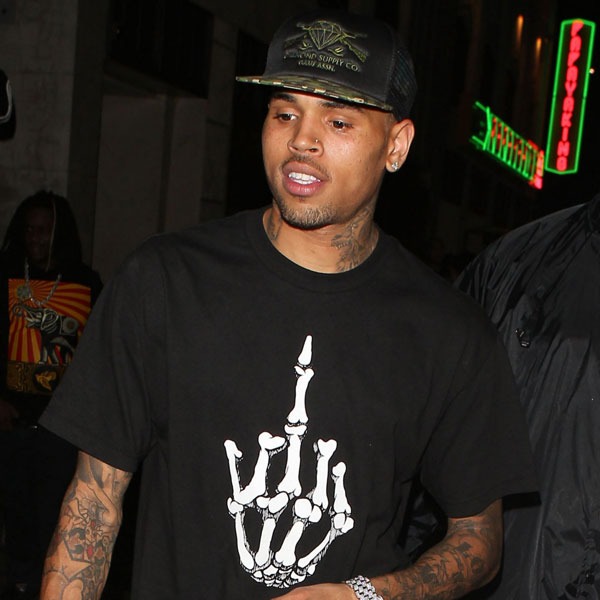 AKM-GSI
Chris Brown likes to "Run It." But he didn't run off with it.
Miami prosecutors have decided not to file charges against the R&B star for allegedly swiping an iPhone from a woman as she tried to take a picture of him outside a South Beach nightclub.
The Miami-Dade County State Attorney's Office confirms to E! News that it has declined to issue a warrant for Robbery by Sudden Snatching after an extensive investigation by police showed insufficient evidence that the 23-year-old Brown attempted to actually make off with the smartphone.
Instead, per the police report, at approximately 4:43 a.m. on Feb. 19, 2012, Brown grabbed the phone belonging to Miami resident Christal Spann when she tried to snap a pic of the performer in his limo once he exited the hot spot with rapper Tyga.
She and another female friend chased after the vehicle demanding the phone's return only to be told by another person in the limo that her phone had been tossed in front of the club.
After tracing it, detectives later found the phone in the possession of Tyga's head of security. Both the hip-hopster, real name Michael Stevenson, and his muscle told investigators in sworn statements that Brown tossed the phone out of the limo, at which point the bodyguard picked it up at Stevenson's behest.
Prosecutors declined to ring the Grammy winner up since they determined he never had any intent to steal the iPhone or delete the pic. They also forwarded their findings to Los Angeles for review in Brown's probation case. However, since the "Don't Judge Me" crooner was never charged with anything, it shouldn't affect his probation for his 2009 assault on Rihanna.
—Reporting by Claudia Rosenbaum