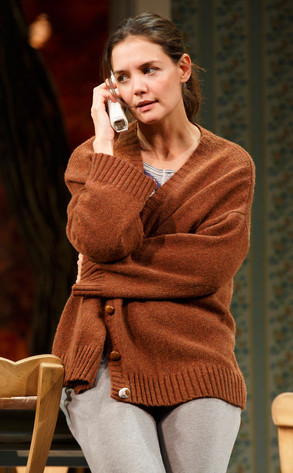 Joan Marcus
The good news? Dead Accounts wasn't quite DOA. The bad news? There wasn't much life in those reviews, either.
Katie Holmes' new Broadway play had its big opening night Thursday in New York City, and critics are now weighing in on her return to the Great White Way after appearing in a 2008 revival of Arthur Miller's All My Sons.
While most zinged the play—about a prodigal son who returns home to his Ohio family—for a lack of depth and sharpness despite its sleek patina, reviews for Holmes' performance were a mixed bag. Many gave polite, if cautious, props to the 33-year-old for her refreshing and revelatory stage presence, while others lobbed backhanded compliments that played up her tabloid-magnet image.
Here's a capsule rundown of the critical lowdown: