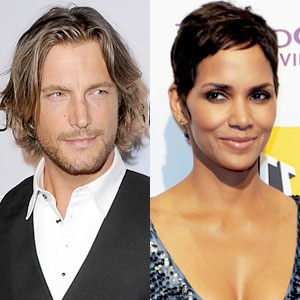 Jason Merritt/Getty Images; MARK RALSTON/AFP/Getty Images
Halle Berry and Gabriel Aubry have called a ceasefire on their second day of battle.
Though the official details of what went on behind closed doors in court today remain under wraps, Berry's attorney, Blair Berk, informed E! News via a handwritten note that "the parties have reached an amicable agreement."
"There will be no further statement on the matter," the note read.
Aubry was in attendance with his legal camp but Berry let her attorney do the talking—and it would seem there was a variety of things to talk about.
An emergency protective order preventing Aubry from coming near Berry and their 4-year-old daughter, Nahla—put in place following his arrest on Thanksgiving after he and Olivier Martinez came to blows outside Berry's house, because it was considered a domestic-violence incident—had been set to expire.
Aubry, meanwhile, has secured a temporary restraining order against Martinez, claiming in his court filing that the actor had threatened to kill him if he interfered with Berry and Nahla's move to France (which a judge has officially blocked her from doing, so long as the child's father opposes it).
Nahla's banged-up pop also alleged that Martinez told him to tell the cops that he himself was the instigator of the physical altercation that occurred outside Berry's house a week ago.
—Reporting by Claudia Rosenbaum