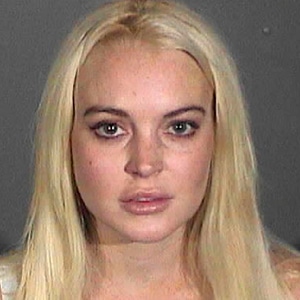 Los Angeles County Sheriff's Dept.
If you felt a bump in the night, it was just Lindsay Lohan getting arrested. Again.
This time, the Liz & Dick actress was accused of assaulting another woman at a night spot. There are a lot of details to the story which take up oh-so-many words, so instead we're reenacting the night's possible events I Didn't Know I Was Pregnant-style. But with GIFs from Lindsay's movies.
As footage from inside has yet to surface, the script has been adapted from eye witness testimonies, police reports and Mean Girls logic. And now, let the curtain rise as we present: "Avenue to Arrest: The Lindsay Lohan Story."
The night begins at a Justin Bieber concert, where all nights of importance tend to begin. But tonight we shall bypass the encore of "Baby" and instead skip to the main event. Sorry, Biebs. We still love you. Note though, that British boy band The Wanted opened for Justin.
We now move across town (the town in question being New York City, of course) to Avenue, a swanky Big Apple lounge. We've provided an optional soundtrack to set the mood.
Deep in Manhattan's Meatpacking District, Lindsay arrived at the lounge in the wee hours of the morning. The atmosphere was right. Bottles were poppin'. Bottles of water, mind you, we're sure.
People were dancing (LOL, remember when LiLo played a stripper in I Know Who Killed Me? LMAO, remember when I Know Who Killed Me was even made in the first place?)
Someone was probably doing the "Gangnam Style" dance. Because this is 2012. In a club. And someone was definitely "Gangnam Style"-ing.
Now, this is where Bieber's concert becomes important. Because apparently Linds wasn't there to sing along to tunes about fondue, she was there to sink her claws into The Wanted's Max George. For all you 1D fans, Max's the one in the middle:
And it seems Lindsay wanted to be this girl.
But, sources say, Max wasn't reciprocating.
Enter: The psychic, Tiffany Eve Mitchell.
Some reports claim the feud began over a VIP table. Others claim that Max had set his eyes on Mitchell, a move that infuriated Lindsay. For the record, Mitchell is married. But a club is no place to fact check.
Either way, at some point an altercation began. Words were surely exchanged. Perhaps these words, verbatim:
Then—ALLEGEDLY—the climactic assault.
What follows is what we, in the theatre world, call the "falling action." In this case, a scene familiar to many of us from such productions as "Lindsay Lohan: The Drug Test Never Lies."
We must now take a moment to express our disappointment that the beautiful men and women of the New York Police Department do not release mug shots, as we covet that rare redheaded edition for our collection.
And that's the way the story goes. Well, actually, that might not be anything like what went down. But it's the closest we can do, given our resources. As for the dénouement, we save that for another day. Another show. Another courthouse appearance.
Meanwhile, we're all just over here, like...