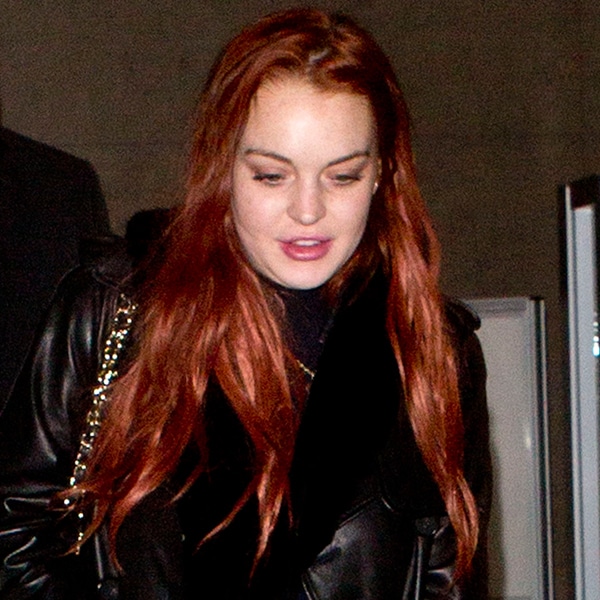 SPW/Splash News
Lindsay Lohan is undoubtedly more famous these days for her multiple arrests than she is for her acting.
After the Liz & Dick star's latest bust early Thursday for allegedly assaulting a woman at a New York nightclub, E! News has assembled a handy scorecard of all of Lindsay's run-ins with the law so you don't have to.
May 26, 2007: Lohan is collared on a charge of driving under the influence and possession of cocaine after losing control of her Mercedes in a booze-fueled car wreck in Beverly Hills.
July 24, 2007: The actress is taken into custody in Santa Monica on suspicion of driving under the influence, driving on a suspended license and possession of cocaine after she gets into a verbal argument with a woman whom she chased in her SUV.
Aug. 23, 2007: Lohan pleads guilty to misdemeanor cocaine use and driving under the influence and is sentenced to one day in jail and 10 days of community service and placed on three years' probation.
Nov. 15, 2007: LiLo spends a whopping 84 minutes in the Lynwood, Calif. jail before being released due to overcrowding.
March 13-16, 2009: A Beverly Hills judge issues a $50,000 warrant related to Lohan's May 2007 DUI arrest only to rescind it three days later after her attorney Shawn Holley shows that the starlet has been complying with the terms of her probation.
Oct. 16, 2009: The judge in her DUI case extends Lohan's probation by an additional 12 months so she can complete her court-ordered alcohol education program, which she had up until that point failed to do given her ever-busy career.
May 20, 2010: Her probation is revoked and a bench warrant is issued for the thespian's arrest after Lohan skips a court date to attend the Cannes film festival and then claims she couldn't get back because, in the words of her attorney, "her passport was stolen." The judge sets her bail at $100,000, which she later pays to win her freedom.
May 24, 2010: The trouble-prone party girl is fitted with an alcohol-monitoring SCRAM device on her ankle and ordered to refrain from drugs and booze and undergo weekly random drug testing as part of the conditions of her bail.
June 8, 2010: A judge rules Lindsay's in violation of her probation, hikes her bail to $200,000 and issues a new bench warrant for her arrest  two days after Lindsay's SCRAM ankle brace suspiciously lights up at an MTV Movie Awards afterparty. The warrant is subsequently recalled after a bail bondsman covers Lohan's bond.
July 6, 2010: Lohan is sentenced to 90 days in jail for failing to attend her court-ordered weekly alcohol education classes.
July 20, 2010: Linds surrenders and ultimately ends up serving two weeks due to prison overcrowding and the non-violent nature of her crime.
Sept. 24, 2010: Lohan's probation revoked after she flunks a drug test which found cocaine in her system.
Sept. 28, 2010: Lohan leaves jail and goes directly to rehab.
Dec. 12, 2010: During Lohan's rehab stint, a staffer at the Betty Ford Center accuses the starlet of attacking her after she asks Lohan to submit to a drug and alcohol test. The charges are later dropped.
Feb. 9, 2011: Surprise! LL is taken back into custody after pleading not guilty to stealing a $2,500 necklace from a Venice jewelry store.
Apr. 22, 2011: Lohan is given 120 days in county jail and 480 hours of community service after a judge finds she violated her probation on the 2007 DUI. At the same time, her necklace-jacking charge is knocked down to a misdemeanor.
May 26, 2011: She's released from L.A.'s Lynwood Jail due to overcrowding and serves out the rest of her stint under house arrest.
Oct. 19, 2011: The Mean Girls star has her probation revoked (again!) after she fails to perform her community service obligations. After being briefly detained, she gets out after posting $100,000 bail.
March 14, 2012: Lohan is accused of allegedly sideswiping a person with her car outside a Hollywood hotspot and then fleeing the scene. L.A. prosecutors decline to prosecute, citing "no direct evidence."
March 29, 2012: The comeback kid finally completes the probation in her DUI case and is placed on informal probation for the necklace theft.
Sept. 19, 2012: Lohan is arrested for allegedly clipping a man with her car outside New York City's posh Dream Hotel and then leaving the scene. Manhattan D.A.'s office, however, opt not to bring charges, citing insufficient evidence.
Oct. 10, 2012: Cops respond to a disturbance call at the Long Island, N.Y. home where Lindsay is staying with her mother, Dina Lohan, after the two allegedly have a massive blowout. No charges are filed, however.
Nov. 29, 2012: Lohan popped outside Club Avenue in downtown Manhattan after she allegedly punched a woman in the face.