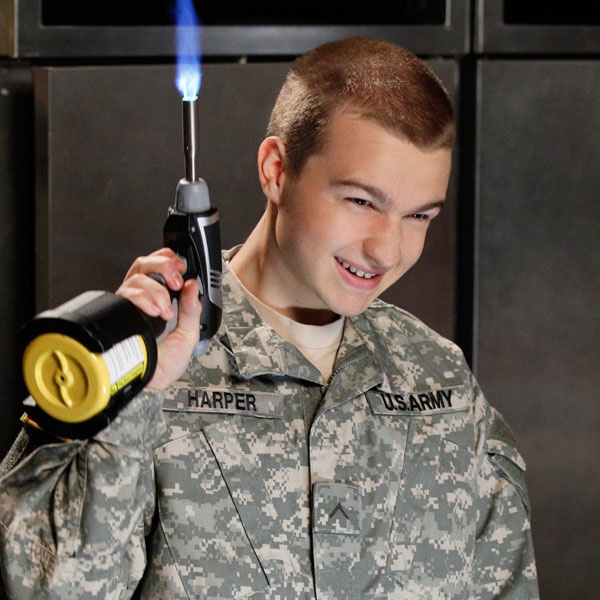 Robert Voets/CBS
Will Two and a Half Men be changing its name to Two Men by season's end? 
That seems to be the question on everyone's mind after star Angus T. Jones publicly trashed the show, calling it "filth," and revealed he no longer wishes to be on the CBS comedy. (He has since issued an apology.) Now, reports have surfaced saying Jones will exit the show after season 10. 
A source close to the show confirms to us that Jones plans to finish out the current season and will most likely not return should CBS order another season. 
Jones' character Jake enlisted in the army at the end of season 9 and has only appeared in a few episodes of the current season. "He won't be in every episode," our source says of the remaining season 10 episodes. "How much they use him will be up to [creator] Chuck Lorre. The intention wasn't ever for him to be in every ep this year anyway. Now it might be less."
Jones and his costars Jon Cryer and Ashton Kutcher all have contracts through the end of this season and CBS has yet to pick up the show for season 11. Should Two and a Half Men be renewed, it's "unlikely" that Jones will return as a series regular. "You might see him for a few guest spots," our source reveals, adding that it's "likely" the 19-year-old will choose to go to college next year.  
"Part of the reason Angus is so wary of the [TV] industry and so involved with the church is that he's seen what's happened to Charlie [Sheen] front and center," the source says. "He doesn't want to end up like that. Who would?"
As for Jones' reaction to the media storm the video has elicited, our source says he is "shocked" that it's become such a big deal, explaining, "He really didn't think anyone would care that much. He has never been the one to get attention."