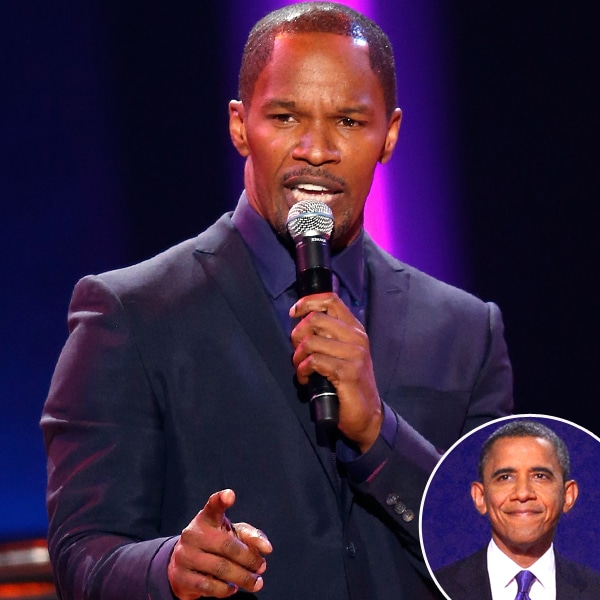 Isaac Brekken/Getty Images; MANDEL NGAN/AFP/GettyImages
Oh, Jamie Foxx. 
The comedian caused quite a stir at the 2012 Soul Train Awards, which was televised last night but taped in Las Vegas a few days after the 2012 election, when he made an out-of-this-world comparison regarding the president.
"It's like church over here. It's like church in here. First of all, give an honor to God and our Lord and Savior Barack Obama. Barack Obama," Foxx said to the audience.
The president of the Catholic League for Religious and Civil Rights in the United States Bill Donahue released a statement regarding the actor's comment, saying, "Foxx's epiphany is startling. It just goes to show that even though Obama did not succeed in stopping the oceans from rising (as he promised to do in 2008), he did succeed in convincing Jamie Foxx, and no doubt legions of others, that God exists. Whether God can survive an ACLU lawsuit accusing him of violating church and state grounds remains to be seen."
Foxx's rep was not immediately available for comment.
Beyoncé was the top winner of the night, taking home the awards for Best R&B/Soul Female Artist and Best Dance Performance for "Love on Top." Other winners included the late Whitney Houston and Jordin Sparks' "Celebrate" for Best Gospel/Inspirational Performance, Kanye West's "Mercy" for Best Hip-Hop Song of the Year and Frank Ocean's Channel Orange snagged Album of the Year.