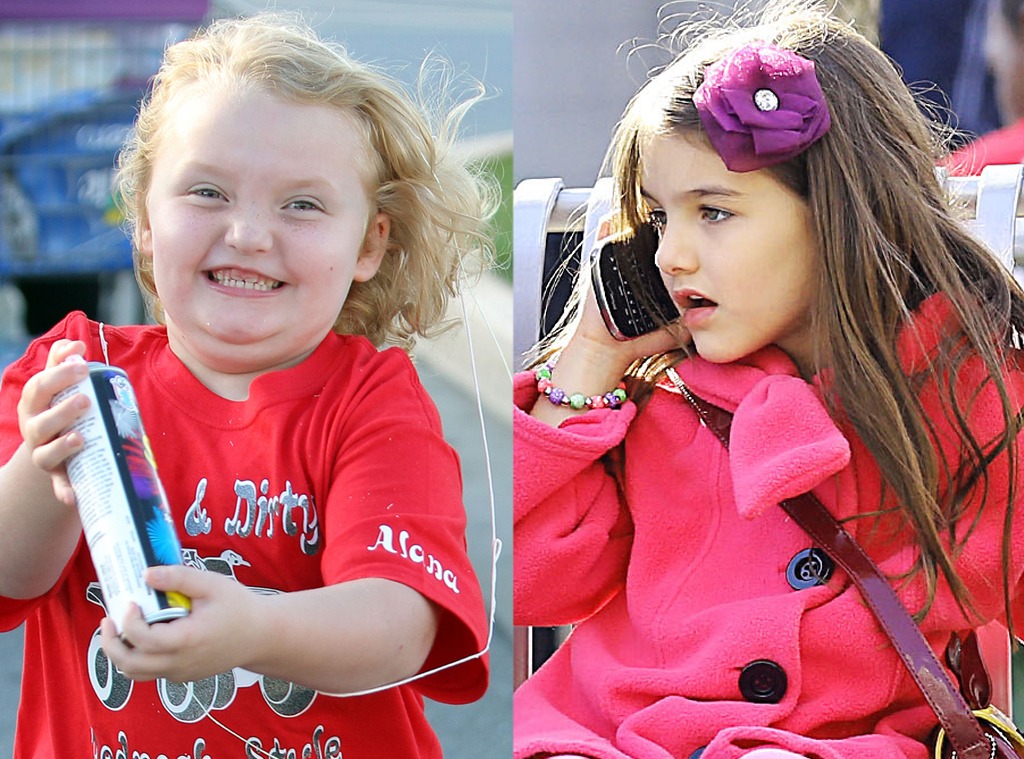 PacificCoastNews.com; Sharpshooter Images /Splash
A 7-year-old got her own TV show because of her talent for guzzling Red Bull and Mountain Dew. A 6-year-old joined Kate Middleton among the world's most acclaimed fashion icons.
And so it was in 2012, the year went pop culture went to the playground, or, in the case of Here Comes Honey Boo Boo, the mud pit.
But despair not. The collective rise of Alana "Honey Boo Boo Child" Thompson and Suri "New York's Most Fashionable First-Grader" Cruise does not spell our downfall. You'll be relieved to know it doesn't guarantee the youngsters' downfalls, either.
But first the bad news:
Here Comes Honey Boo Boo, featuring Thompson and her far-flung family of half-siblings, parents, farm animals, cheese balls and beauty-pageant paraphernalia was a hit, the kind that demanded your attention even if you were trying to not pay attention. (Go ahead, and pretend you didn't Google "go-go juice" and "Sugar Bear" in bids to stay relevant.)
Within a month of its August premiere, Honey Boo Boo, a spinoff of the long-terrifying Toddlers & Tiaras, had proved itself more tune-in worthy than vice-presidential candidate Paul Ryan's speech at the Republican National Convention.
And then the more-bad news: Instead of receding from the spotlight in the wake of her celebrity parents' sudden divorce, Suri Cruise became a bigger draw than ever.
Where once she was an accessory to Tom Cruise and Katie Holmes, now she was taking Manhattan, now she was ranking alongside the Duchess of Cambridge and Victoria Beckham on a year-end best-dressed list, now she was now her own woman, except, of course, she wasn't a woman at all on account of her only being 6.
To say that all of this—the Honey Boo Boo Child acclaim; the Suri Cruise watch—felt wrong is understandable because it's sure not right. Alana Thompson is being exploited by TV, and by the TV viewers who fuel her ratings. Suri Cruise, who of her own accord hasn't done a thing to court attention, is being exploited by the paparazzi, and by the gawkers who click through their fashion galleries.
But, we repeat, despair not.
It's going to be OK.
Really.
We will move on from Here Comes Honey Boo Boo just as we move on from train wrecks, car wrecks and Jon & Kate Plus 8. Sometimes, the victims of these wrecks move on, too, especially if the damaged fight their way out together, you know, um, unlike in the example of Jon & Kate Plus 8. 
To be perfectly honest, we're less likely to move on from Suri Cruise. Just ask Prince William if the public ever tires of a famous-from-birth story, especially if the famous-from-birth individual grows up looking like he or she was born to be on the cover of a magazine.
But Suri doesn't have to be crushed by the weight of our collective overbearing presence. By all appearances, after all, the future King of England is doing well. And growing up in the White House spotlight didn't prevent Chelsea Clinton from becoming a productive member of society (or Amy Carter, for that matter, from seeking out and maintaining a profile so low that you're now going to have to Google "Amy Carter" right after you read this—and, of course, finish with your Sugar Bear research.)
So, see? It really can be OK.
Maybe one day, we'll all have a 2012 reunion and Alana Thompson and Suri Cruise will be there, and we'll all laugh at how two children, collectively aged 13, held us in their sway.
And, maybe then they'll laugh.
At us.
And that'll be OK, too.
After they year they've had, they deserve the last laugh.