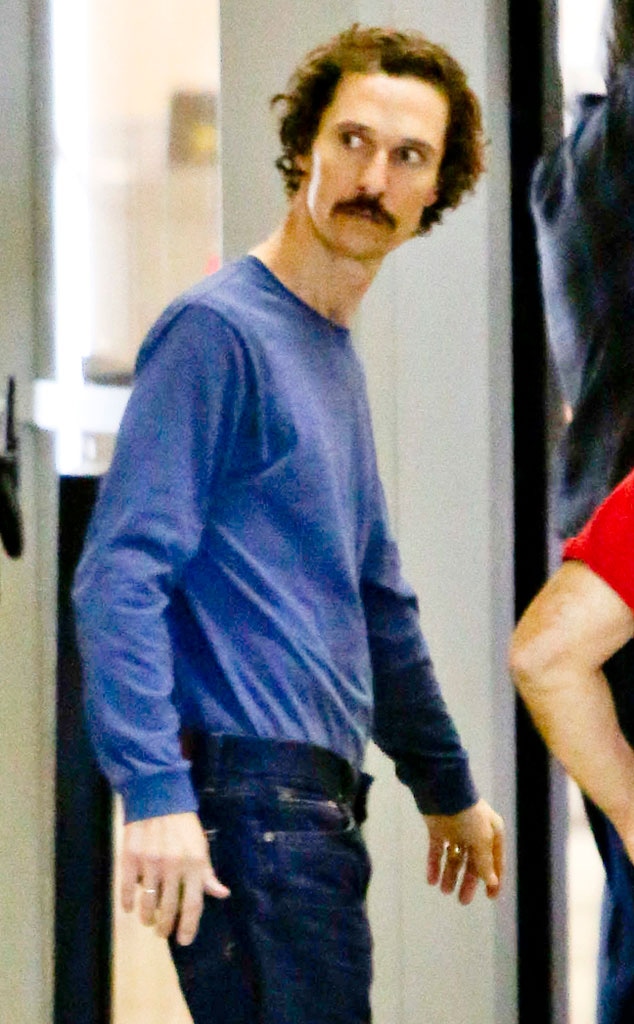 AKM-GSI
Matthew McConaughey is giving us the skinny on his shocking physical transformation.
After dropping 38 pounds to play a man diagnosed with HIV/AIDS in The Dallas Buyer's Club, McConaughey opened up about how he dropped the weight, and revealed the meal he can't wait to sink his teeth into once shooting on the film is complete. 
Before the five-week shoot kicked off Monday, the 43-year-old Magic Mike star told Hitfix, he "still [feels] good" in spite of his rail-thin appearance.
 "Overall, [I've] probably got 35 percent less energy, but there's been plateaus," McConaughey told the site. "Getting past 170 was really hard, but then once you get [to] 167 the next seven come off easy. Getting past 160, really hard. But then you fly down to 150. Getting past 150 was really hard and then, bam! Got down to 143 and that's where I want to be. So, once you get past the plateau, your body seems to understand, 'OK, this is where we're leaving now, this is where we are' and so the energy rises."
So, how did he drop the pounds?
"I'm doing cardio but I'll tell you what, the more I've learned is—and I think it comes with age too—is it's 90 percent diet," McConaughey went on. "It's 90 percent amount and then what you're eating because right now I'm not losing any more weight if I burn 1,500 calories, two hours of cardio in an afternoon, or if I don't. It doesn't matter. It's a matter of how much I eat or how little I eat." 
Speaking of eating, McConaughey said he already knows exactly what he wants to feast on as soon as shooting ends: a po-boy.
But, if for some reason he can't find the perfect one, the transformative thesp said he'd be just fine dining on a cheeseburger.
"I will have some 70 percent beef, 30 percent fat ground beef, maybe a half-pound cheeseburger with another three types of cheese. I'll prepare it all and I'll make sure that it takes three hours just to prepare," McConaughey said. "I'm going to have buns with butter on both sides, toasted and grilled. I'm going to melt the cheese on the top bun, Hellman's Real Mayonnaise. I want kosher dill pickles sliced nice and thin, diced white onions, slightly grilled until they get almost hard, and some thin jalapeno slices. And then I'm just going to sit back and let the [expletive] just drop on the ground."
Unfortunately, McConaughey's diet regimen has caused him to have less of an appetite, so he said he may not be able to eat that entire half-pound cheeseburger, even if he wants to. 
"Your organs [and] muscles shrink, your organs shrink [and] my stomach has shrunk as well," he explained. "So, as much as I can't wait to have that cheeseburger on the day [shooting ends] it'll probably be damn hard to eat the whole thing. When that day comes, and it's coming, I don't want to be doing this interview at a Pizza Hut buffet, you know? I choose to pick my places where there's less good smells and temptations, you know?  That's really nice."
Jennifer Garner and Jared Leto also star in the film, playing McConaughey's doctor, and a cross-dresser with AIDS, respectively.