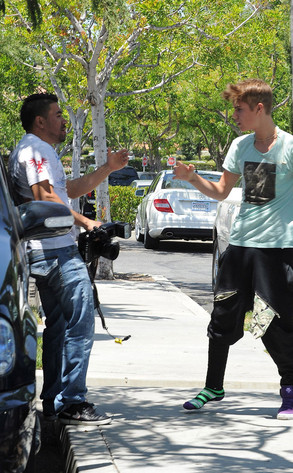 Raef-Ramirez/AKM-GSI
Justin Bieber will not face charges for his altercation with a photographer earlier this year, according to court documents.
On May 27, Bieber and his then-and-possibly-still-girlfriend Selena Gomez were leaving the movie theater at the Commons at Calabasas shopping center. As usual with this pair, several paparazzi were present, photographing them walking to their van, and then driving away—or trying to. Apparently, Bieber thought that the paps were blocking their way out, because, according to court documents, he exited the van and confronted one of them.
What happened next? Well, photographer Jose Hernandez-Duran later told Los Angeles County Sheriff's deputies that Bieber kicked him in the gut and punched him in the face—a claim that deputies investigated. In a charge evaluation worksheet filed on Oct. 22, the L.A. County District Attorney's Office detailed the many ways in which they were unable to corroborate that accusation.