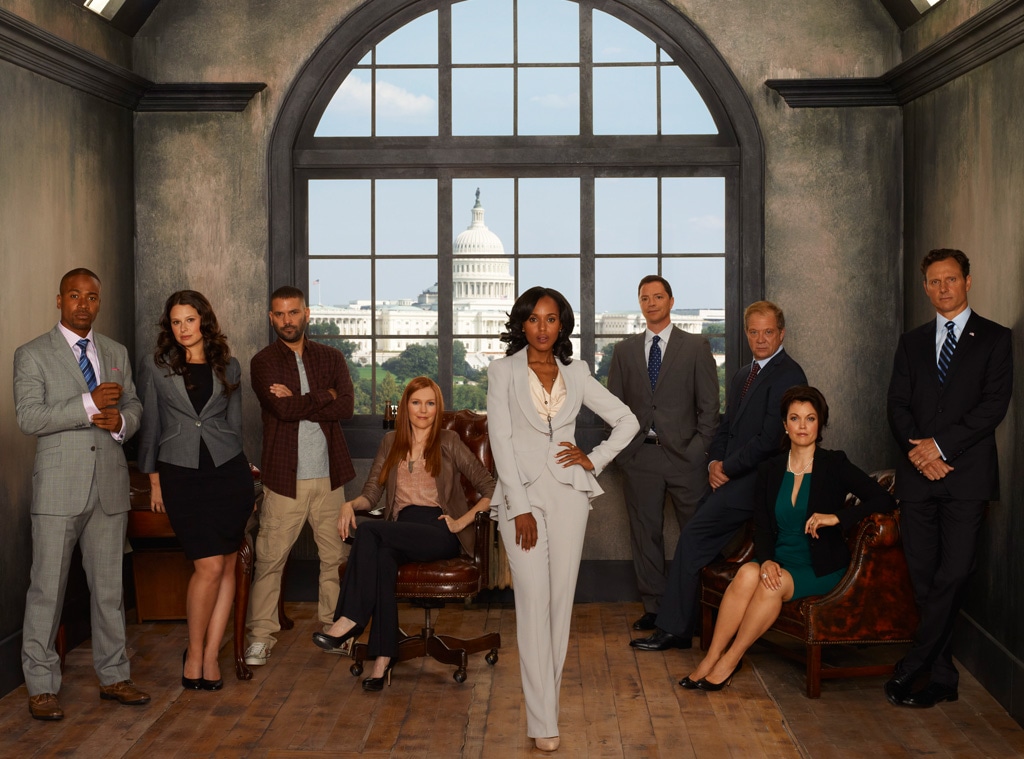 Craig Sjodin/ABC
Happy Almost-Turkey Day!
It's Thanksgiving Eve and we've got a feast for you in today's Spoiler Chat, including scoop on Blaine's upcoming breakthrough on Glee, a new father figure on Once Upon a Time and a possible tragedy on Scandal. If that's not enough for ya, we've also got intel on the second season of Smash as well as goodies from Criminal Minds, Happy Endings and more. So put on your stretchiest pants and indulge in some TV goodness!
Juliet: Loving The Mindy Project! Got any info on what's ahead?!
Prepare to meet (and promptly fall in love with) Maggie, Mindy's old college friend who just so happens to live in her apartment building as well. Though she's a P.E. teacher and tomboyish, she's confident and loves to party and if someone happens to think she's a lesbian? Ain't no thang, for Maggie! While the role is currently recurring, there's a strong chance it could be upped to series regular in the future. Any casting suggestions for Mindy's new BFF? 
Katie: Could I please, please, please have some scoop on Blaine from Glee. He was sooo sad in the last episode it was devastating. I love him! Please tell me there are some awesome storylines coming up for him and if you could give us a little hint on what they are that would be great!
We've got good and bad news, Katie: The next episode features a whole lot of Glee's well-gelled fella, but he'll be sad for a lot of it as well. While Blaine seriously considers heading back to Dalton in the last episode (because everything at McKinley reminds him of Kurt!), he will be doing a lot better by the end of Thursday's episode, which shows signs of Blaine beginning to move on and forgive himself for cheating. (We'll get a flashback to that indiscretion, FYI.)
Thomas: I'd be eternally grateful for some Once Upon a Time scoop!
A paternal presence this way comes! The ABC hit series is currently casting the mysterious role of Arlo, a man in his late 30s-early 40s who is very large in height and weight. (Hmmm…could he be another giant?!) He's wise, firm and imposing and has an air of authority to him.
Gina: That Smash trailer was bananas! Now I need season two scoop!
We are also huge fans of the way season two is shaping up. We were on set while they were shooting the scene shown in the trailer of Karen crowd surfing and let us just tell you, it's definitely more than meets the eye. We can't reveal if it's a dream sequence, but it's definitely a pretty crazy situation. Plus, we think fans will love the relationship between Karen and Jennifer Hudson's character, which Katharine McPhee calls "unexpected."
Jessie in Lexington, Ky.: I need Scandal scoop!    
We bugged Kerry Washington for some, but she is sworn to secrecy. However, her tease did lead us to believe that something awful is coming up. "I so am not allowed to say anything. But I will tell you things get more and more complicated. Much, much more complicated," she tells us. "I'm a little bit scared of what's happening on our show. All of us. The whole cast is scared." Does that mean a death is coming?!
Antonia: Loved that Happy Endings made your list of TV things you're thankful for. Can I get some scoop, please?
Your flattery worked wonders because we are delighted to give you a preview of what's coming up on the ABC comedy. You know how Max has always felt comfortable in his own skin and doesn't really get self-conscious? Well, in an upcoming episode, his ego will be bruised terribly when he realizes that because Penny is actually happy with a boyfriend, and Alex and Dave are still together, he is officially the seventh wheel of the group. And he doesn't like it one bit. So instead of doing the logical (?) thing of breaking up Penny and her BF, Max decides to find another hot mess to hang out with to make her jealous. We don't need to tell you that hardcore hilarity ensues.
Jill in New Orleans: I will take scoop on Criminal Minds. Please and thank you
Criminal Minds is planning an episode that revolves around a conversion camp. For those of you not in the know, conversion camps are organizations that believe they can change young people's sexual orientation from gay to straight. In the episode, we'll meet a man in his late 20s who was sent by his father to a conversion camp and is now paying dearly for his dad's actions.
—Additional reporting by Jenna Mullins and Tierney Bricker
Want your TV questions answered in our next Spoiler Chat? Email them to tvdiva@eonline.com or tweet at @KristinDSantos!