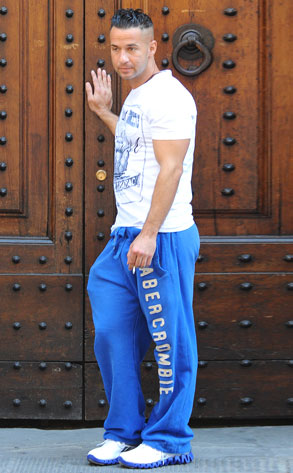 INFphoto.com
UPDATE: Devotion Spirits has fired back at the reality TV star by filing a counter lawsuit against Sorrentino for fraud, breach of contract along with other causes. The vodka company claims they had no idea that Sorrentino had been in alcohol rehab before they signed him to their agreement, and feel that the Jersey Shore star concealed that information from them because he knew they wouldn't keep him as an endorser.
--
Let's say it one time with feeling—Now, this is a situation.
Jersey Shore's resident ab man Mike "The Situation" Sorrentino filed a breach of contract lawsuit against Devotion Vodka, E! News confirms, claiming the company cheated the reality star out of millions after Sitch held up his end of the bargain.
In 2010, Mike agreed to endorse the protein-infused vodka (sounds super delish, right?). The MTV star claims he did his job and is the reason the company has gained success since then, and wants his payoff.