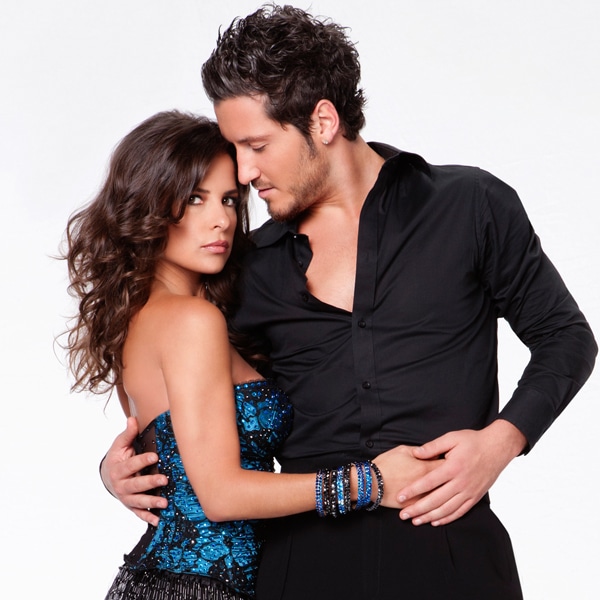 Craig Sjodin/ABC
Now here's something we never thought we'd hear from Dancing With the Stars: "Dancing a caveman hustle, Melissa Rycroft and her partner, Tony Dovolani."
But that's how Monday's show kicked off, with the first of five routines combining rarely (or never) danced styles with oddball themes. Well, they had to come up with something to pass the time till round two—a 25th-anniversary tribute to Michael Jackson's Bad!
Melissa and Tony's dance actually looked a lot like Shawn Johnson's much-maligned samba trio with Derek Hough and Mark Ballas—only much cheesier. But, on a bright note, Tony showed no sign that he was battling a bad back and there were enough lifts and dips to make up for the lumbering leaps.
But they were just doing what they'd been told! Bruno Tonioli called Melissa's costume "the best use of animal skins since Racquel Welch in 1,000 Years B.C."
Derek said he would have rather had "mustard and ice cream," but what he and Shawn were stuck with was Knight Rider Bhangra, an Indian folk dance. (And a talking car driven by David Hasselhoff, who was a few seasons too early for this plum assignment.)
But Derek gamely wore a leather jacket to fulfill the Knight Rider half of the production, and he and Shawn earned a perfect 30 on their energetic, made-you-want-to-get-up-and-dance, Bollywood-tastic routine.
Figuring they were already wearing white gloves for the clown portion of their big-top jazz routine, Apolo Anton Ohno and Karina Smirnoff injected a little Fosse into the proceedings—but there was something a little sloppy about the whole thing. Carrie Ann Inaba called it "disjointed," but Bruno raved about the "Cirque du Soleil meets A Clockwork Orange vibe."
We don't see it happening in the next James Bond film, but Emmitt Smith tackled an espionage Lindy Hop with Cheryl Burke—and, as he does with most everything, managed to make it look, if not perfect, then at least cool.
Finally, Kelly Monaco and Val Chmerkovskiy's surfer flamenco was a wild blur—all we really remember is Val in his skivvies at the end. We hear Kelly was wearing a bathing suit, too.
Though the music kinda stole the spotlight, the second round featuring the top five dancing to tunes from Bad saw an increase in confidence and an uptick in scores (minus Shawn, since she had nowhere to go) across the board.
"'Dirty Diana,' I would like to introduce you to 'Magnificent Melissa'!" raved Carrie Ann after her Argentine tango.
Dancing to "Bad," Shawn and Derek's Argentine tango was no less perfect than their, er, Knight Rider Bhangra—but a 10-waving Bruno tangled with Carrie Ann over what she thought was a lack of passion and intimacy on Shawn's part.
Apolo's fluid open-shirt rumba to "Man in the Mirror" was one of his best dances all season. Emmitt pulled the more restrictive ballroom tango (instead of the more high-flying Argentine tango), and he had fewer trick options, but it flowed really well with "Leave Me Alone." And Kelly, languishing in last place, caught up with Emmitt in a tie for fourth after a sexy rumba to "I Just Can't Stop Loving You."
Here's how the leaderboard stacked up after two rounds:
Shawn & Derek: 59 (30, 29)
Melissa & Tony: 57.5 (27.5, 30)
Apolo & Karina: 57 (27, 30)
Emmitt & Cheryl: 54 (27, 27)
Kelly & Val: 54 (25.5, 28.5) 
Two stars are going home tomorrow night following performances by the Wanted and Paula Abdul.
Who deserves to be in next week's finale? Sound off in the comments!