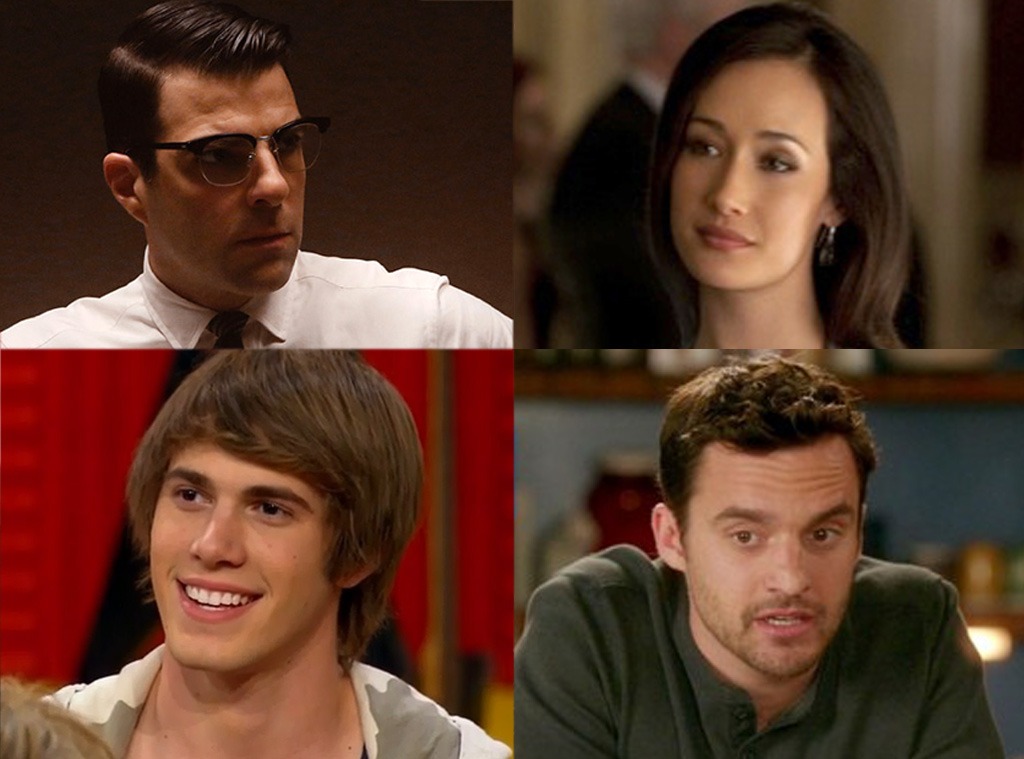 FOX, CW, F/X
Readers, we have a confession: We are seriously conflicted over Glee's new love triangle!
Not helping matters is the new bromance surfacing on the show between Jake and Ryder, which we've got scoop on in today's Spoiler Chat! So just how serious are these guys getting, and how will it effect their respective feelings for Marley? Plus, we've got scoop on two new family members coming to Community, Nikita's new threat, Olivia Munn on New Girl and more...
Harriet in St. Louis: Sucks that 666 Park Avenue got canceled. Any chance Vanessa Williams would be up for a Desperate Housewives reunion?
We asked the beautiful Williams herself that very question recently, and while she said that no talk has been brought up about bringing back the Housewives yet, she has a feeling fans shouldn't hold their breath. In her own words, everyone on the cast has "moved on."
Chris: I'll take some Community scoop!
Season four is shaping up to be a family affair. In addition to meeting Shirley's mother and father in episode five of the new season, episode 12 will re-introduce us to two of her kids, Jordan and Elijah, who will also appearing flashbacks.
Jasmine: I am loving the new kids on Glee! What's next for the new love triangle between Jake, Marley and Ryder?
While we were seriously torn on the Jake-Marley-Ryder love triangle before watching Thursday's episode "Dynamic Duets," we're even more torn after considering Jake and Ryder's burgeoning bromance. Seriously, the guys help each other a lot in the episode, and Ryder even calls Jake his "boy" while Jake turns to his big bro for advice on how not to be a jerk in this situation! Awww, isn't it nice when everyone gets along?!
Brooke in San Diego: Where is the Nikita scoop?
Right here! In episode 12, Amanda is up to no good. Well, she's always up to no good, but this time the whole country is in danger. Amanda will be training a terrorist who really has it out for America after he lost a family member to collateral damage during a war in his country. And he wants revenge in the worst way possible.
Kate: So you've watched Liz and Dick. I'm very curious to hear about Lindsay and Grant's chemistry, because Richard Burton and Liz Taylor had wonderful onscreen chemistry.
While some of the sexual moments between Grant Bowler and Lindsay Lohan aren't as smooth as you want them to be, you definitely feel some heat between the costars. Unfortunately, their quest for chemistry is the least of that movie's troubles.
Blair: AHS scoop on Dr. Thredson, who is now Bloody Face!
As Sarah Paulson told us last week, Dr. Thredson picking Lana was not random at all. But another thing that isn't random is his choice to target women. And when the show dives into the background of Oliver's character, you'll see exactly why the deranged doc is going after females. Hint: It has to do with one female from his past.
Teddy: Olivia Munn is my dream woman, and her guest starring on New Girl is a dream come true! Got any scoop on her episode?
If Munn is your dream woman, then prepare to hate Jake Johnson, aka Nick, really, really hard, because according to him, they make out "a lot." "It was hard to stay Nick Miller and not be nerd Jake Johnson doing make out scenes with Olivia Munn," he tells us. "But she's great. She's fantastic. She's so good on the show. She's around for a little bit. She's got a really fun character. She plays a real badass. She kind of mixes everything up a little bit."
—Additional reporting by Jenna Mullins and Tierney Bricker
Want your TV questions answered in our next Spoiler Chat? Email them to tvdiva@eonline.com or tweet at @KristinDSantos!