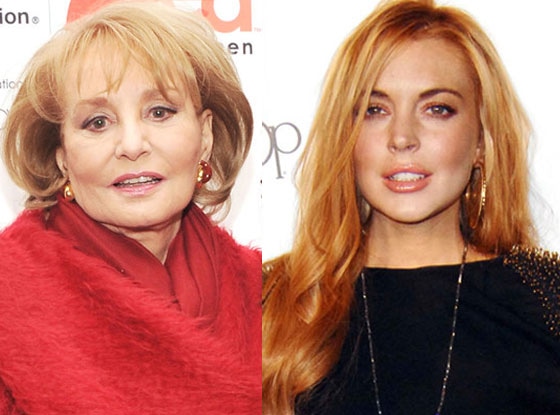 Stephen Lovekin/Getty Images, David Crotty/PatrickMcMullan.com/Sipa USA
We understand why Barbara Walters is so upset that Lindsay Lohan pulled out of their 20/20 interview, but she shouldn't feel like she was passed over in favor of Jay Leno's Tonight Show.
As you may have heard, shortly after LiLo cancelled a long-planned interview with Walters, it was announced she'd be showing up on Leno's late-night chatfest instead to talk about her new Lifetime movie, Liz & Dick.
"You should know that the Jay Leno interview was booked prior to the Barbara Walters incident," Liz & Dick executive producer Larry Thompson tells me. "It's not like she decided not to do Barbara Walters and then she was going to do Jay Leno."
Thompson says he saw media schedule for Lohan that included Walters and Leno. "It's not like Jay Leno was the default," he said. "It had already been set."
No matter what the outcome, Thompson said, "They say any publicity is good publicity and I just pray that adage remains true."
Walters blasted the last-minute cancellation on The View. "It would have been a wonderful, wonderful interview," she said. "And she could have set a lot of things straight."
Lohan has since appeared on Late Night With Jimmy Fallon as well as Good Morning America to promote the movie, which premieres on Nov. 25 on Lifetime.