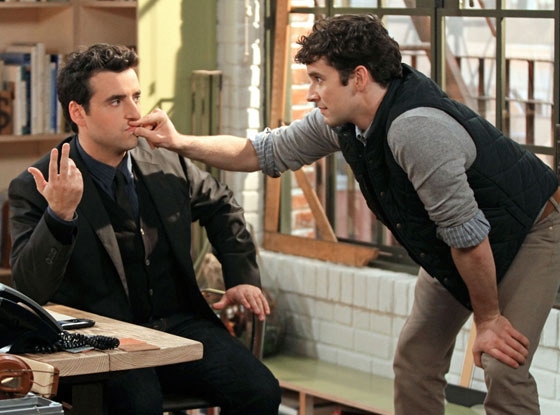 Matt Kennedy/CBS
CBS has decided to part ways with Partners.
The network has canceled the freshman comedy starring Michael Urie and David Krumholtz as childhood friends that are now partners at an architectural firm.
The comedy, which also starred Sophia Bush and Brandon Routh, failed to attract viewers; its most recent episode garnered a 1.8 rating in the adults 18-49 demo, a series low. Comedy repeats will begin airing in Partners' timeslot beginning this Monday, Nov. 19.
Will & Grace creators Max Mutchnick and David Kohan created the series, which they based partially on their real-life friendship and working relationship. It was CBS' only new comedy this season. 
"Sadly, it is so," Bush tweeted of the cancellation news. "What a fun run it has been. I love @michaelurie@DaveKrumholtz @BrandonJRouth so much. Our producers. Our crew. Thank u all."
Partners joins NBC's Animal Practice and CBS' Made in Jersey as the fall TV season's canceled casualties. 
In our Save It or Sink It poll, 67 percent of voters liked Partners and wanted to see it stick around.