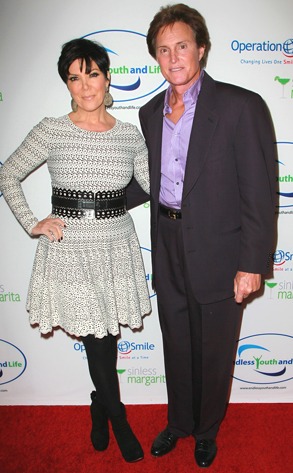 David Livingston/Getty Images
Count Kris Jenner as one who isn't putting much stock in the rumor that she and husband Bruce Jenner are divorcing.
"I said, 'Honey, I think we're getting a divorce,'" she joked to E! News, recalling how she called her husband of 21 years on Wednesday morning to inform him that the National Enquirer had predicted their imminent split.
"He said, 'Honey don't bug me with this. I'm at the hobby store buying helicopter parts.'"
Yup, that sounds like Bruce.
As E! News first reported, the tabloid's prediction is, frankly, "rubbish" and they're not getting divorced.
"We just laugh it off," Kris says. "We love each other and just laugh about it."
"These kind of stories have been circulating for the last couple of years," adds the Keeping Up With the Kardashians star. "We're absolutely not filing for divorce. Everything is great. We feel very blessed as a family.
"If we had to chase down and comment on every rumor we'd be working overtime."
Most likely, there just wouldn't be enough hours in the day.